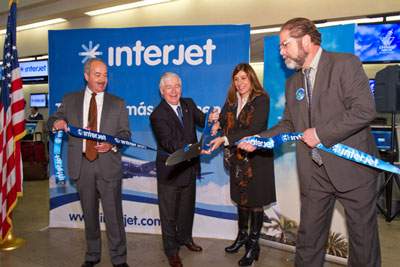 FOR IMMEDIATE RELEASE: October 11, 2012
Media Contact for further information: Linda Ayares, M. Silver Associates, 212-754-6500 Ext. 262, linda@msilver-pr.com; Jenny Wedge, (949) 252-5182 (office), jwedge@ocair.com
TODAY INTERJET INAUGURATES DAILY SERVICE TO MEXICO FROM JOHN WAYNE AIRPORT IN ORANGE COUNTY
With Flights to Mexico City and Guadalajara, New West Coast Service Marks Fourth U.S. Gateway for Mexico's Second Largest Carrier
SANTA ANA, Calif. – Today Interjet inaugurates daily service to Mexico from John Wayne Airport in Orange County. The flights – to Mexico City and Guadalajara – represent the company's fourth U.S. gateway as Mexico's second largest air carrier continues to make a strong impact in the popular U.S.-Mexico travel market. Interjet already flies from Miami, New York and San Antonio to Mexico City.
Pictured l-r: Alan L. Murphy, Airport Director, John Wayne Airport; Jose Luis Garza, CEO, Interjet; Alejandra Garcia Williams, Consul General to Mexico in Santa Ana; John M. W. Moorlach, Chairman, Orange County Board of Supervisors
View photos of Interjet beginning service at John Wayne Airport
Special introductory fares of $289 to Mexico City and $299 to Guadalajara including taxes are valid until the end of November, subject to availability.
"Interjet is very pleased to commence service from Orange County to two Mexican gateways – Mexico City and Guadalajara – which are popular destinations for Southern California business and leisure travelers. In addition, Interjet's Orange County flights to Mexico City provide the most convenient same-day connections to over 23 Mexican gateways served by Interjet which will make travel to Mexico even easier. We look forward to providing our Southern California friends with the quality service and appealing amenities that travelers from other parts of the U.S. already enjoy," said Jose Luis Garza, Interjet's CEO. In addition to its U.S. gateways, Interjet's international route structure currently includes Guatemala, Cuba, and San José, Costa Rica.
"The OC tourism industry is absolutely thrilled with the new service by Interjet to two cities in Mexico. As John Wayne Airport, Orange County continues to expand its air service to new international markets; Mexico is a natural and critical market for the region's success," said Gary Sherwin, Chairman of the Orange County Visitor's Association. "We welcome Interjet to the OC family and look forward to extending our famous OC lifestyle brand to all of its passengers and providing them with an exceptional experience."
Passengers arriving on the first two flights into Orange County today were greeted by Airport employees and representatives from the Orange County tourism industry. Each passenger received goodie bags filled with items representing sites to see and places to visit in Orange County as well as Disney Ears and a one-day pass to Disneyland Resort parks. All items were donated by Anaheim/Orange County Visitor and Convention Bureau, Destination Irvine, Disneyland Resort, Knott's Berry Farm, Laguna Beach Conference & Visitor Bureau, Legoland & SEALife Aquarium, Medieval Times, Mission San Juan Capistrano, OC Parks, Orange County Great Park, Orange County Visitor's Association, San Diego Zoo, Sea World Parks, South Coast Plaza, The Outlets of Orange and Visit Buena Park.
The new Orange County to Mexico City service departs from John Wayne Airport at 10:30 am Monday through Friday, arriving at the Benito Juarez International Airport at 4:05 pm. On Saturday and Sunday, flights from Orange County depart at 3:15 pm, arriving in Mexico City at 8:50 pm. Flights leave Mexico City at 7:45 am, arriving in Orange County at 9:30 am Monday through Friday, and at 12:30 pm arriving in Orange County at 2:15 pm on Saturday and Sunday. Daily service to Guadalajara's Miguel Hidalgo y Costilla International Airport departs John Wayne Airport at 1:35 pm, arriving at 6:45 pm; flights from Guadalajara depart at 11:15 am and arrive at 12:35 pm.
"We are honored that Interjet has chosen John Wayne Airport as its first destination on the West Coast," stated Alan L. Murphy, Airport Director, John Wayne Airport. "Orange County's strong tourism and business sectors – along with our terrific international arrival facilities – make John Wayne Airport a great choice for convenient, nonstop service from Mexico."
Interjet earned its reputation as one of Mexico's most successful airlines based on numerous passenger-pleasing flight and service features. Interjet is known for its high quality service at competitively affordable prices as well as its excellent safety record. With 35 new A320 aircraft, the airline has put the customer first with such decisions as removing 30 seats to create maximum comfort for 150 guests as well as serving complimentary snacks and premium beverages during flights between Mexico and Orange County. Interjet also offers transferable tickets, an appealing frequent flier loyalty program, in-flight entertainment program, an unrestricted 20 percent discount year-round for seniors, a unique take-off/landing camera and women-only toilets on all airplanes. In contrast with other carriers, there is no extra charge for passengers to select seats or check up to two 55-pound bags per ticket. Interjet does not overbook its flights and has no hidden fees in the ticket purchase prices; the price offered by the airline is what the customer pays, including all taxes.
Reservations can be made online at www.interjet.com or through your travel agent.
# # #
About Interjet
INTERJET is a 100% Mexican airline which, in December 2011, celebrated its 6th anniversary by fulfilling a corporate commitment to provide high-quality air travel at an affordable price. Its current fleet consists of 35 state-of-the-art Airbus A320 aircraft with the latest in aeronautical technology. They are also the only aircraft of their kind in Latin America that are equipped with external cameras, which allow the passengers to see live take-off and landing from their seats. Interjet operates over 150 daily flights on 42 business and leisure routes, covering 26 destinations in Mexico and seven international destinations – Guatemala, Havana, San Antonio, Miami, San José (Costa Rica), New York and now, Orange County. Interjet's network also offers excellent connections to other destinations at the airport in Mexico City. For further information and reservations, consult www.interjet.com or call 866-285-9525.
About John Wayne Airport
John Wayne Airport (SNA) is owned by the County of Orange and is operated as a self-supporting enterprise that receives no general fund tax revenue. The Airport serves approximately nine million passengers annually and reaches more than 20 nonstop destinations in the United States, Canada and Mexico. More information can be found at www.ocair.com or at facebook.com/johnwayneairport or twitter@johnwayneair.
You can access JWA news releases at www.ocair.com/newsroom/news