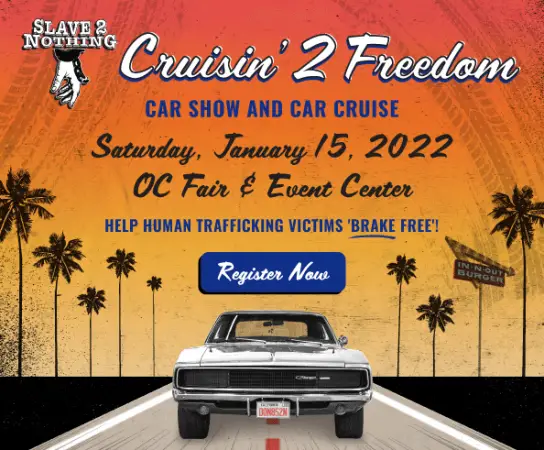 The owner of In-N-Out Burgers, Lynsi Snyder-Ellingson, and her husband Sean Ellingson are hosting the Cruisin' 2 Freedom Car Show and a Car Cruise on Jan. 15 at the OC Fair and Event Center to benefit their non-profit, Slave 2 Nothing, which was established in 2016 to help improve the lives of individuals and families affected by substance abuse and/or human trafficking.
Here are the event details:
Polish up those wheels, maybe throw on an extra coat of wax and head down to the OC Fairgrounds for an unforgettable Car Show & Car Cruise.
Cars you've seen featured on In-N-Out T-shirts will be brought out from the Snyder Garage!
Enter a display vehicle in the Car Show for the chance to win prizes and take home Cruisin' 2 Freedom commemorative gifts!
Or, start your engines and get ready to cruise, when you set off on a 22-mile drive that includes photo-worthy moments at iconic In-N-Out Burger restaurants located along the beautiful Pacific Coast Highway.
At the end of the cruise, you'll wheel on back to the OC Fairgrounds, where you can enjoy a Double-Double fresh from In-N-Out Burger's Cookout Trucks, take part in Special Raffle Giveaways, and bid on exciting Silent & Live Auction packages, all while learning more about the Slave 2 Nothing Foundation's impactful work in our communities.
Wrap up the evening with a heartwarming Give Back activity as we come together to provide comfort and support to trafficking survivors.
Every penny raised by your registration and donations goes directly to organizations that are working tirelessly on the front lines to help eliminate human trafficking and save lives.
See you at the starting line!
AGENDA
1:30-3:00PM – Display Vehicle Check-In
2:30PM – Sponsor Cruise Line-Up
3:00PM – Car Show Opens! Food Trucks & Music!
3:30PM – Sponsor Car Cruise Begins
4:30PM – Cruise Sponsors Return
6:00PM – Welcome & S2N Program, Live Auction
7:00PM – Car Show Awards & Special Raffle Winners
7:15PM – Giveback Hygiene Kit Activity
7:30PM – Thank You!
Click here to register for the event.