Johnathan Ryan Hernandez celebrated his recent election to the Santa Ana City Council by getting a tattoo of the words "La Raza", according to the O.C. Register. He was elected to represent everyone in our city but clearly in his mind he is only representing "La Raza."
Is it any surprise then that Hernandez has been caught on video praising cop killers? Specifically he celebrates the fact that Santa Ana had its own Black Panthers chapter even though members of that chapter ambushed SAPD police officer Nelson Sasscer while he was on duty on June 4, in 1969, and he eventually died as a result.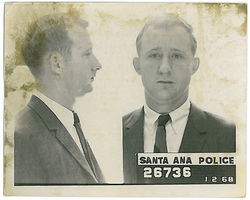 The Black Panthers that killed Sasscer expressed hatred for police officers and had been accused of being racist against white people. Members and former members of the group were responsible for the murders of at least 15 law enforcement officers and the wounding of dozens more across the nation in the 1960's and 70's.
Sasscer was a Vietnam War veteran who was the SAPD's 1968 rookie of the year. A Black Panthers newsletter referred to Sasscer as "Rookie Pig of the Year."
A Black Panther, Arthur League, was arrested and eventually was found to be guilty of second-degree murder. League served seven years of a five-years-to-life sentence. He returned to Santa Ana after his release then moved to the Bay Area and never lived in Orange County again.
Daniel Michael Lynem, the former leader of the Santa Ana Chapter of the Black Panthers, regrets fostering the anti-police sentiments that led to Sasscer's murder. "I wish it never happened," he says. But while Hernandez mentions Lynem in a video conversation he does not note that Lynem regrets Sasscer's murder!
Today Sasscer's memory lives on in our city as he is the namesake of Sasscer Park. But not to Hernandez who amazingly refers to that park as "Black Panthers Park" – honoring the murders who killed Sasscer! That should not come as a surprise since Hernandez also said that he's the first man in his family on his father's side to not go to jail or prison.
As it turns out a 10-year-old boy witnessed the murder of Sasscer – and he was so affected by what he saw that he grew up to become a police investigator. Louie Martinez III ended up working as an investigator at the OCDA's office and when he had a chance to talk to Sasscer's widow he told her "Your husband did not die alone and I am in part who I am today because of him. I have never forgotten him." You can read his story here.
As for Hernandez it is clear that he is not up to the task of being a Santa Ana City Councilman – and he is in fact a major liability to our city. As a cop hater he should not in any way, shape or form be allowed to serve on any City Council committees involving public safety.
Hernandez recently participated in an unpermitted event honoring his cousin, Brandon Lopez, who was shot and killed by Anaheim police officers when they pursued him in a stolen vehicle. That chase ended in Santa Ana. Hernandez immediately called those police officers murderers but we still don't know the facts. We don't know for certain if Lopez had a gun, nor do we know what drugs may have been in his system. Those police officers only knew what he was a dangerous felon who had been involved in several armed robberies. We should withhold our judgement until the investigation is concluded.
Of course Hernandez lacks restraint and he appears to favor criminals over our residents. I cannot think of any City Council members on any other City Councils in Orange County who are as a big a liability as Hernandez. At this rate I would not be surprised if residents eventually mount a recall to get this guy off our City Council.
BTW how did Hernandez react when residents called him out for supporting an unpermitted public event? He wrote in an email "F*ck them. Tell them I said that."