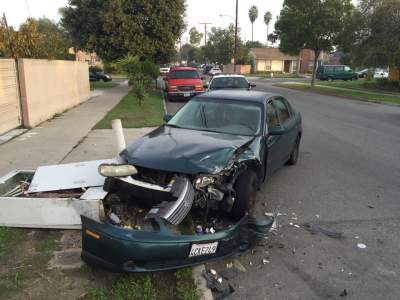 UPDATE: The hit and run driver has contacted the victim and is going to pay to have his car repaired!
Roger Gomez was awakened by a loud noise at 7 am today.  He ran outside and found out that someone had hit and badly damaged his car.  There were witnesses and they were able to write down the first and last digits of the license plates, "5EA756."  The car was a tan Trail Blazer.
If you see the Trail Blazer in question look for damage on the left front side of the car.
The incident occurred right off Civic Center and Pacific, at 10th and Pacific, behind Santa Ana College. Witnesses say that the male driver was texting while driving.
Gomez only has liability insurance so this hit and run incident is a real tragedy.  He attended Saddleback High School and he is currently renting a room from a friend.  He works at a local restaurant.
If you know something about the hit and run driver and would prefer to stay anonymous contact the Orange County Crime Stoppers at 1-855-TIP-OCCS (847-6227). They will pay up to $1,000 for any tip that leads to an arrest!
We have also started on online fund to help Gomez to raise the money he will need to fix his car.  Needless to say this was terrible timing with Christmas just around the corner.  Click here to help Gomez.