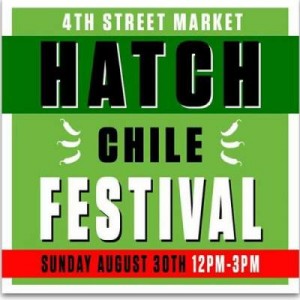 4th Street Market in Santa Ana, CA is having their very own Hatch Chile Festival today, August 30, 2015, from 12 noon to 3 pm, at 201 E 4th St, in Downtown Santa Ana.
So what the heck are Hatch Chiles?  Here is their story, courtesy of iHatch Chile:
Developed in the late-60′s and early 70′s by Dr. Nakayama, as a result of a breeding program at the New Mexico State University, a chile was being developed with the intent to supply the need for fresh chiles in the canned and processing industry.  But, this unnamed chile was too "beefy."  There was simply too much chile, which in turn, created more waste than the processing facilities would want to deal with.  Thus, it was left to die …or so they thought.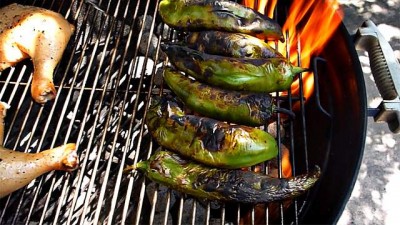 About a decade later, a man named Jim Lytle would pick up where Dr. Nakayama left off.  Being a true farmer, Jim took this chile under his wings and started to plant and harvest the chile for several years.  Around 1987, the last year of Jim's life, this chile was approved by the New Mexico Crop Improvement Association and named in honor of the late Jim Lytle.  And the "Big Jim" was born!

To this day, the Big Jim variety chile is the most popular Southwestern chile being grown. It falls under the category of a "New Mexico Chile" and is accompanied by the New Mexico 6, Sandia, and Lumbre (meaning Fire in Spanish). These chiles are named after the original growing area in Hatch, New Mexico. Chefs say that the intense sunlight and cool nights in this valley result in a uniquely flavored chile. The valley, which stretches along the Rio Grande's southern-most bend before crossing into Texas and Mexico, is covered with row after row of green, leafy Hatch chile plants for most of the summer. These chiles have a meaty flesh and mild-medium heat.

In all of New Mexico, no other chile is prized more than this variety which grows in the Mesilla Valley, just north of Las Cruces. This chile's uniqe flavor make it ideal for use in Chile Con Queso, Chile Rellenos, and Chile Verde. But, don't stop there–try roasting and using them in salads, soups, stews, dips and sandwiches.
Here are some more facts about Hatch chiles:
One fresh medium-sized green chile pod has as much Vitamin C as six oranges.
One teaspoon of dried red chile powder has the daily requirements of Vitamin A.
Hot chile peppers burn calories by triggering a termodynamic burn in the body, which speeds up the metabolism.
Teas and lozenges are made with chile peppers for treatment of sore throat.
Capsaicinoids, the chemical that make chile peppers hot, are used in muscle patches for sore and aching muscles.