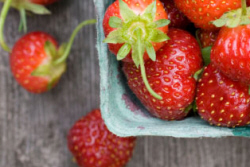 FOR IMMEDIATE RELEASE: FEBRUARY 10, 2011
CONTACT: JENN STARNES, 949-724-6574
Great Park Farmers Market Valentine's Day Festival
IRVINE – Getting anxious over what to get your special someone this Valentine's Day? Don't worry! Discover fresh sweet strawberries grown at the Great Park Farm, bouquets of romantic flowers, and special Valentine's Day foods this Sunday, February 13th, at the Great Park Farmers Market.
"Shoppers will love the special Valentine's Day offerings at this Sunday's Great Park Farmers Market," said Larry Agran, Chair of the Orange County Great Park Corporation. "What could be better on Valentine's Day than a basket of fresh strawberries from our own Great Park Farm?"
From farmers to foodies, all of the vendors at the Farmers Market are getting into the Valentine's spirit with special offers for last-minute gift buyers:
– Succulents and 1-gallon grape plants wrapped for Valentine's Day gifting
– Fresh flower bouquets for $5
– Special discounts on aged balsamic vinegar and infused olive oils
– Love-themed desserts, including cupcakes
– Great Park Strawberries from OC Produce
– Discounted reusable shopping bags to hold your goodies
Strawberries at the OC Produce booth are grown at the Great Park Farm, part of the Park's current 225-acre development project. Work on the project is evident upon entering the Park, which remains open during construction and expansion.
Sunday will be helpful for jobseekers as well as gift hunters. Volunteer photographers from Saddleback Church, called PICS, will be on hand to offer their free portrait services to help people looking for jobs.
While at the Great Park Farmers Market, treat your Valentine to a feast from the lineup of gourmet food trucks, then go for a free ride on the Great Park Balloon and Carousel or enjoy a stroll through the Farm and Food Lab.
The Orange County Great Park is open Thursdays and Fridays, 10 a.m. to 10 p.m., and Saturdays and Sundays, 9 a.m. to 10 p.m. The Great Park Farmers Market is open Sundays from 10 a.m. to 2 p.m. For more information, go to www.ocgp.org
About the Great Park
The Orange County Great Park, with its 1,347-acre master plan, is the focal point of the redevelopment of the publicly-owned portion of the 4,700-acre former Marine Corps Air Station, El Toro. The Great Park is currently 27.5 acres and includes an iconic tethered helium balloon that rises 400 feet in the air, providing an aerial view of Park development. A $70 million development plan to expand the Park to more than 200 acres is currently underway. The plan will build out a core section of the Park for the most immediate and wide-ranging public benefit, including the initial components of the sports park, a 114-acre agricultural area, and an art and culture exhibition space. For more information, please go to www.ocgp.org
###