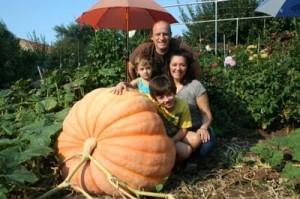 Dr. Joe Sabol's son, Joey and his family
Celebrate Pumpkinmania on Sunday, Oct 25 8:30a to 2:00 pm, at the Heritage Museum, in Santa Ana.
There will be a Giant Pumpkin contest.  You can read more about that by clicking here.   Be sure to visit their website as they have a lot of pictures of huge pumpkins!
The Heritage Musuem features historic home tours, blacksmithing demonstrations, craft and food booths, kids' activities, and more!
Price: Free to enter, free to attend.  Phone: (949) 683-5932.