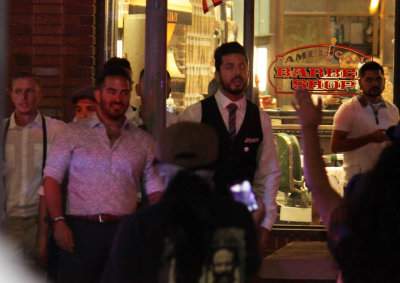 Employees of a business called the American Barbershop allegedly hurled racist insults at a group of mostly Latino protesters who had gathered on Friday, August 15, 2014 to held a vigil last night at Plaza Santa Ana, against police brutality.
A number of employees of this business were reportedly caught on video and in photos saying racial slurs and giving the middle finger to the crowd and members of the press.  Members of the Santa Ana Police Department were there at the time acting as personal security to the East End businesses.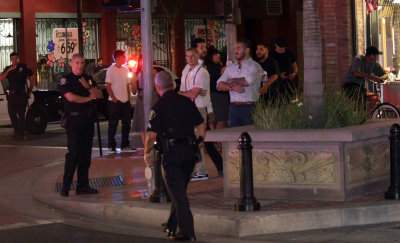 The Vigil was in solidarity with the communities in Ferguson, MO and in Anaheim that are standing up against police brutality and the protesters were also standing against the the latest gang injunction that was recently imposed on a Santa Ana neighborhood.   The protesters were also making a stand against the militarization of the SAPD as well.
The pending video apparently shows the employees throwing cans of empty bottles of suavecito at the protesters..calling them lazy and wetbacks.  We will post the video as soon as it becomes available.  But that could be awhile as the video was shot by a videographer using actual film, not on a cell phone.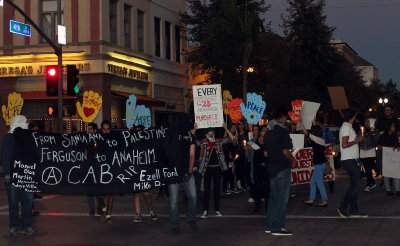 The American Barbershop responded to this fracas on their Facebook page.  Here is the response verbatim but we had to obscure the curse words they posted:
August 15 around 8:45 there was a large protest in Downtown Santa Ana . American Barbershop was fully staffed with 12 barbers and a full clientele including Moms with their young children. George Mendoza the owner was across the street talking to the restaurant owner of Boldo when he noticed the protesters walking towards his barbershop .

That is when several girls noticed George across the street and instead of continuing their protest , stopped and began yelling "F*ck American Barbershop , and your restaurant!, Why did you open in Santa Ana ? Is it cause you couldn't afford Laguna Beach? F*ck you and your hipster haircuts!! " At this point George felt like the protest was targeting his businesses and he also felt that his business was in danger.  

George ran across the street and was immediately surrounded by several masked men that began to aggressively yell at him from about 1 foot away from his face.  They first asked " Do you support Santa Ana PD ? " George answered "Of course I do , they take care of my business " The masked men then aggressively told George " You are a F*cking Coward , we know who you are and we are coming back to f*ck you up and your barbers !"

By this time all the barbers were outside trying to protect George.  Naturally tempers escalated and the barbers yelled back "take off your masks you f*cken cowards." As upset as you can imagine the barbers were. NOBODY CALLED THE PROTESTERS WETBACKS!!

Today several people have been Yelping, writing that the barbers called them wetbacks while the protesters were having a peaceful protest. That is a lie. We are a 95 percent Mexican staffed shop and 95 percent of our clients are Mexican. Obviously these Yelp Reviews are fake and this is a personal attack on American Barbershop .

So you tell me was this a peaceful protest ? Did they accomplish what they set out to do ? Or did they get a little side tracked with their hatred ??  I assure you , charges against this group will be filed and Yelped will be contacted for defamation of business .
So what really happened?  Who is lying?  I guess we will know when the video comes out.
In the meantime please take a few minutes to report this incident to the Orange County Human Relations Commission at this link.  You can also email them at this link.  They conducted a formal investigation when former Santa Ana Councilwoman Claudia Alvarez used a Hitler analogy when referring to the man who developed the East End.  So they ought to take an interest in finding out what is happening now in the same area.
The pictures in this post are courtesy of SAPD – Stop Abusing People's Derechos.
UPDATE: The OC Weekly has weighed in on this controversy with an article by Gabriel San Roman.  Here are a few excerpts:
"It's hard to say who started it," says activist "Amaru" from OC A-Cafe, an anarchist collective that sets up in public spaces to give away free books, clothes, and food. "The barbers were outside their shop when the march passed by."

Amaru, who declined to give his real name, wasn't going to bother with the shouting match, but changed his mind when he heard "wetback" come from the barber side of the street. "They're Mexican, so it was weird, but they're hipster Mexicans, I guess," he says.

One-star reviews and threats of a boycott over the incident are flooding American Barbershop's Facebook and Yelp pages. Those comments are enraging owner George Mendoza, who was initially across the street during the confrontation, but rushed to his business once he saw protesters approaching it.

"These people are a bunch of dumbshit, f*cking ignorant people!" Mendoza continued, referring to the protesters. He claims they promised to "f*ck" him and his shop up. "It makes me embarrassed for my own people."

Protesters had a different take. Amaru claimed someone menaced him with a skateboard. "I got chased right in front of the cops," he says. "They just watched."

Another protester says men decked in bow ties and suspenders went after him and his friends. "We were walking away from the march," says Jordan Brocious. "Six of them ran through the parking structure to catch up to us looking for a fight."