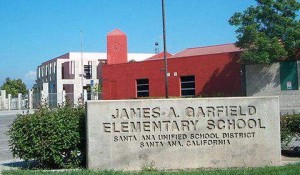 Garfield Elementary School Celebrates the Opening of State-of-the-Art 2 Story Classroom Building at Ribbon Cutting
THE EVENT: The Garfield Elementary School Community is celebrating the transformation of Garfield Elementary School to a world-class learning community with the opening of a state-of-the-art 2-story classroom building. Members of the Santa Ana Unified School District Board of Education will be joined by district staff, community supporters, parents and students for a ribbon cutting ceremony. The classrooms became available at the start of the new school year. Students are already learning, excelling, and enjoying the new facility. Members of the media are invited to capture this special event.
WHEN: Tuesday, September 17, at 8:30 a.m.
WHERE: Garfield Elementary School
850 Brown Street
Santa Ana, CA 92701
VISUALS: Ribbon Cutting will include:
§ Musical selection "Stand by Me" by 5th grade class
§ Ribbon cutting with SAUSD Board of Education, Garfield principal and students
§ Speeches commemorating the transformation of Garfield into a world-class learning community
CONTACT: Deidra Powell, Chief Communications Officer – Santa Ana Unified School District at (714) 558-5555 desk or (714) 673-4995 cell
###