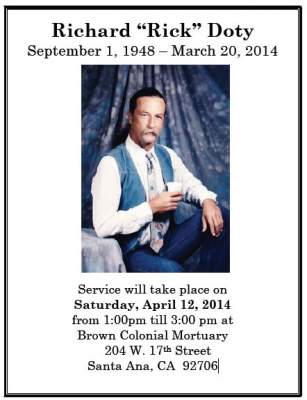 Funeral Service for former Spurgeon Teacher Rick Doty
Rick Doty was a math department chair for many years at Spurgeon and a front-runner for what we now call common core. His passion was teaching and he impacted the lives of many students.
Doty's funeral service is set for Saturday, April 12, 2014, from 1 to 3 pm at the Brown Colonial Mortuary at 204 W. 17th St., in Santa Ana.
The family has requested that in lieu of flowers, to please donate to a charity of your choice.
The American Cancer Society's Relay for Life will take place on April 12-13, 2014 at Santa Ana College. Mendez Fundamental Intermediate School students have a team registered under the "Mendez Mustang Cancer Warriors", you may join their team in honor of Rick by registering at www.relayforlife.org/santaanaca.