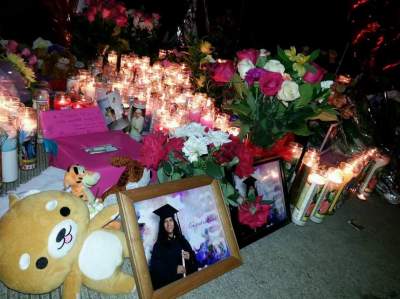 Funeral and church services for the three girls killed by a hit and run driver in north Santa Ana on Halloween have been set, according to information posted at the makeshift memorial that neighbors and friends and family of the deceased have erected on  the 1400 block of East Fairhaven Avenue near Jacaranda Street.
A rosary for Andrea Gonzalez will be held from 5-9 p.m. Friday at Holy Family Cathedral, with services scheduled for 9:30 a.m. Saturday at the church, which is located at 566 S. Glassell St. in Orange.  Gonzalez' family is welcoming all who want to come to the service to attend.
A wake for twin sisters Lexi and Lexandra Perez Huerta, will be held tonight, Friday, from 6-9 p.m., at Funeraria del Angel, which is also known as MacDougall Family Mortuary, located at 1610 E. First St., in Santa Ana, with services scheduled for 8:30 a.m. Saturday at Our Lady of Guadalupe Church, located at 1322 E. Third St., in Santa Ana.
Jaquinn Ramone Bell, 31, has been arrested and charged and he is awaiting his arraignment.
There are two Gofundme.com accounts for the girls.  The one set up for the twins had collected $44,776 as of late Thursday and the one for Gonzalez had raised $32,853 by Thursday.
A car wash is being held today, Friday, Nov. 7, 2014, at Fairhaven Elementary School, located at 1415 Fairhaven Ave. in Santa Ana. It will take place through 5 p.m.