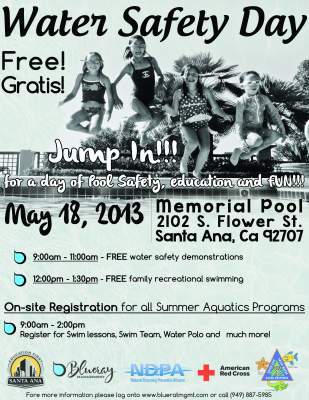 The City of Santa Ana and Blueray Management are hosting a Water Safety Day on May 18, 2013, at Memorial Pool, located at 2102 South Flower St., in Santa Ana.  There will be two sessions – one from 9 am to 11 am, that will feature free water safety demonstrations, then a second session from 12 noon to 1:30 pm, featuring free family recreational swimming.
You will be able to register on-site for all the Santa Ana Summer Aquatics Programs from 9 am to 2 pm.  You may register for swim lessons, swim teams, water polo and more! You may also register online by clicking here.
Event sponsors include the American Red Cross and the National Drowning Prevention Alliance.
About Blueray Management
We hire and personally train all our staff members to make certain they meet Blueray's lofty standards of exellence. As a result, our team is full of dedicated professionals committed to offering the highest quality services. Everyone is trained in-house, and kept up to date on the latest American Red Cross Standards, ensuring every community receives professional and experienced care. The Blueray team knows first-hand the benefits a great program can bring, and we relish the opportunity to share our passion and excitement with others.