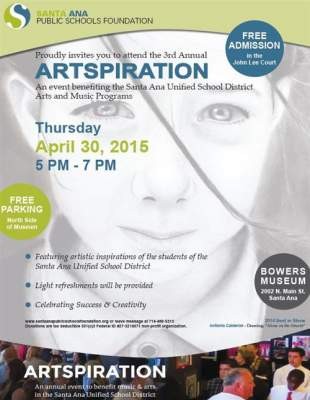 News Release
Celebrating the Art of Students in Santa Ana
April 27, 2015 – The Santa Ana Public Schools Foundation (SAPSF) in partnership with the Santa Ana Unified School District is celebrating the success and creativity of the arts during the 3rd Annual Artspiration, an event benefiting the Santa Ana Unified School District Arts and Music Programs, to be held Thursday, April 30, 2015, 5:00 – 7:00 p.m. at the beautiful Bowers Museum, located at 2002 N. Main Street, in Santa Ana.
"Artspiration offers an opportunity to showcase our great student artists and their art. Student art on display at the Bowers Museum allows our students, parents and teachers to celebrate the arts," said Rob Richardson, President of SAPSF. Guests will have an opportunity to purchase exceptional prints of the award winning artwork by Santa Ana Unified School District's budding, talented student artists. Guests will be entertained with musical selections by student groups and have an opportunity to meet some of the artists. There will be a limited number of autographed prints from the Best in Show Winner Adrian Romero.
"I am very proud to be part of an organization supporting arts in education," said Kristen Crellin, SAPSF Board Member. All proceeds raised from this event will support arts education in the Santa Ana Unified School District and provide college scholarships to a group of well-deserving seniors who have already made plans to continue their educational journey at Santa Ana College in the fall. "Congratulations to the winners! There is no better way to express one's feeling than through art," said Bruce Hamlin, Owner of Guaranty Chevrolet and SAPSF Board Member.
Admission and parking is free. If you are interested in covering this event, please contact Deidra Powell, Chief Communications Officer of the Santa Ana Unified School District, at (714) 673-4995 or deidra.powell@sausd.us.
###