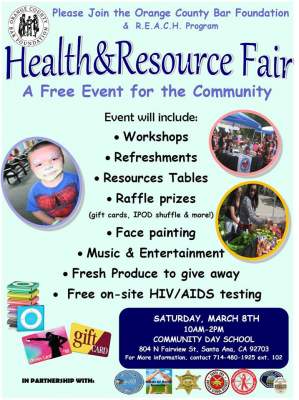 A Health and Resource Fair will be hosted by the Orange County Bar Foundation on Saturday, March 8, from 10 am to 2 pm at Community Day Intermediate & High School, located at  840 N. Fairview, in Santa Ana.
This free event for the Community will include:

Workshops
Refreshments
Resources Tables
Raffle prizes
(gift cards, IPOD shuffle & more!)
Face painting
Music & Entertainment
Fresh Produce to give away
Free on-site HIV/AIDS testing(no blood drawn & results in 30min)
Partnership with: Loaves and Fishes x10, Hands of Mercy; Orange County Probation Department; Santa Ana Unified School District; Office on Women's Health – U.S. Department of Health and Human Services;Center of Substance Abuse and Prevention, Santa Ana Santa Ana School Police Department.