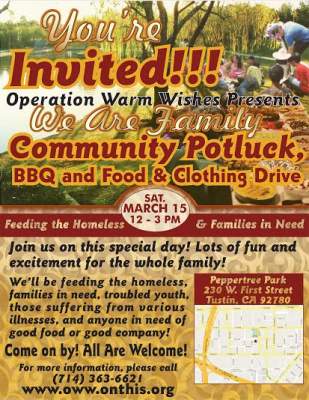 Join us for an amazing day in Tustin!  Operation Warm Wishes Presents: "We Are Family!" Community Potluck/BBQ and Food & Clothing Drive!-Feeding the Homeless and Families in Need!
Saturday, March 15, 2014 at Peppertree Park in Tustin (230 W. First Street Tustin, Ca 92780). Noon-3 p.m.
Join us as we host and serve a FREE potluck/bbq for the homeless, families in need, troubled youth, those suffering from various illnesses, and anyone in anyone in need of good food or good company.
We will be feeding and touching the lives of many people on this special day. Join us for the FUN and EXCITEMENT as we give back and serve those in need! It's going to be great!
* If you would like to volunteer, donate a dish or need more information, call 714-363-6621 or visit www.oww.onthis.org
* We collecting non-perishable food items and clothing to help those in need around Orange County.
It's going to be an amazing day of giving and serving those in need! All is welcome!