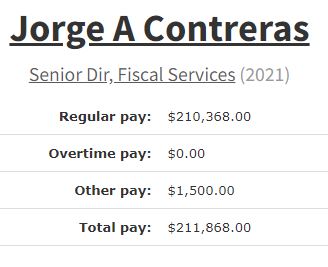 SANTA ANA, California – The former senior director of fiscal services at an Orange County public school district was arrested today on a federal criminal complaint alleging he embezzled more than $14 million from the district over a seven-year period and used the illicitly obtained funds to finance a house, buy luxury items, and obtain cosmetic treatment from a dermatologist.
Jorge Armando Contreras, 52, of Yorba Linda, is charged with embezzlement concerning programs receiving federal funds, a felony punishable by up to 10 years in federal prison. He made his initial appearance this afternoon in United States District Court in Santa Ana and a federal magistrate judge ordered him jailed without bond. Contreras' arraignment is scheduled for November 27.
Contreras was the senior director of fiscal services at the Magnolia School District, which serves students in Anaheim and Stanton. In this role, Contreras, whom the school district hired in 2006, managed the district's fiscal operations. The schools in this district educate children from preschool through sixth grade – 81% of whom are classified as socio-economically disadvantaged. Each year, since 2009, Magnolia School District has received millions of dollars in federal funds.
According to an affidavit filed with the complaint last week and unsealed today, from August 2016 to July 2023, Contreras embezzled more than $14 million from Magnolia School District by making unauthorized payments to himself from district funds – payments that came from more than 250 checks from the district that were deposited into Contreras' personal bank account. The checks ranged from approximately $11,000 to approximately $95,000 and listed fictitious persons as the payee, the affidavit alleges.
From August 2022 to July 2023 alone, Contreras allegedly embezzled more than $4.1 million from Magnolia School District. During this time, Contreras used the embezzled funds to pay more than $1.9 million to American Express, withdraw $325,000 in cash from ATMs, and transfer more than $130,000 to his partner, whom he married in August 2023. Contreras allegedly also used the illicitly obtained funds to purchase his residence in Yorba Linda for approximately $1.5 million as well as a BMW SUV for approximately $127,000, which he used to deposit embezzled funds into his personal bank account via drive-thru ATMs.
Contreras purchased the Yorba Linda residence in 2020 and paid for more than $1 million of it via a wire transfer from his personal bank account. Contreras also allegedly altered bank statements submitted as part of the loan application for this property to hide funds he embezzled from the school district.
The affidavit further alleges that Contreras altered documents over the years to hide his embezzlement, and that he used some of the funds to pay $190,000 to a West Hollywood dermatologist and surgeon for cosmetic treatments. He also allegedly used the embezzled funds to purchase luxury items sold by Versace and Louis Vuitton.
Contreras allegedly also transferred some of the embezzled funds to bank accounts in Mexico.
The school district placed Contreras on administrative leave in August 2023 and has filed a lawsuit against him in Orange County Superior Court.
A criminal complaint contains allegations. All defendants are presumed innocent until proven guilty beyond a reasonable doubt in a court of law.
The FBI, IRS Criminal Investigation, and the United States Department of Education – Office of Inspector General are investigating this case.
Assistant United States Attorneys Billy Joe McLain of the Public Corruption and Civil Rights Section, Brett A. Sagel of the Corporate and Securities Fraud Strike Force, and James E. Dochterman of the Asset Forfeiture and Recovery Section are prosecuting this case.