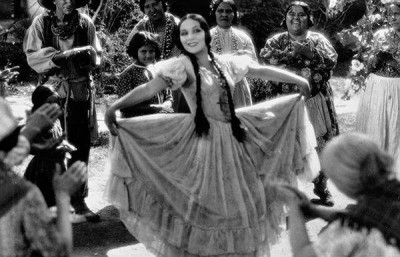 FOR IMMEDIATE RELEASE: OCT. 14, 2015
Contact: Victor Payan, Film Fiesta Director, victor@ocfilmfiesta.org, 619-701-0073
Film Fiesta Pulls Out Stops for Lost Dolores del Rio Silent Film "Ramona" With Live Score Sunday at 1pm
Award-winning Composers David Spear and Joseph Julian Gonzalez Lead Performance of Their New, Original Score
(Santa Ana, CA) The Film Fiesta is proud to take you back to 1928 this Sunday with the OC Premiere of this lost Dolores del Rio silent classic RAMONA with a new original score written and performed live by award-winning composers Joseph Julian Gonzalez (Misa Azteca) and David Spear (Ballet Robotique, The Rainbow War). This special screening takes place on Sunday, October 18 at 1pm at the Frida Cinema, located at 305 E. 4th St. in downtown Santa Ana's historic Calle Cuatro.
In 1928, an emerging Hollywood starlet named Dolores del Rio took the nation by storm when she starred in Edwin Carewe's silent film adaptation of RAMONA, Helen Hunt Jackson's beloved tale of romance in Old California. Over the ensuing years, copies of the movie disappeared, and this important piece of film history was thought to be lost forever. Then, in 2010, a single print was discovered in a film archive in the Czech Republic. The film has been restored and preserved by the Library of Congress, and the intertitles were translated back into English.
RAMONA was written in 1884 and was declared to be "unquestionably the best novel yet produced by an American woman." By 1928, more than 98 editions of the book had been printed, and RAMONA is credited with sparking a craze for romantic Old California that swept the country at the turn-of-the-century and has defined the mythology of the state to this day.
For 90 years, this important Dolores del Rio film was lost to the ages and no copies were thought to exist. In 2010, a single print was discovered in the Czech Republic, and it was brought to the Library of Congress for restoration, where the intertitles were translated from Czech back into English. This is a great early film by Dolores del Rio, a huge international cinema icon who means so much to our community.
"We invite the community to join us for a special, once-in-a-lifetime, chance to be among the first audiences to view an early silent film by a beloved cinema icon that was thought lost for nearly 90 years," says festival Director Victor Payan.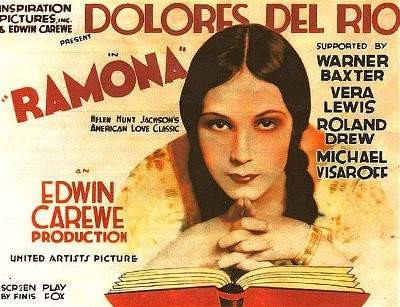 "The beautiful restoration, amazing story and new live score will take the audience back to 1928, when stars like Charlie Chaplin walked in downtown Santa Ana. Dolores del Rio lights up the screen, and fans will not want to miss this amazing opportunity to see her in a brand new light, as an American silent film star!"
The imagery is beautiful, and the Film Fiesta screening will feature a brand new score written and performed live by two Academy-award-nominated composers using 19th Century early Californio music as their inspiration.
RAMONA is a timeless love story that stars a young Dolores del Rio, beloved cinema icon, who is one of the few people to achieve stardom in silent film, American cinema and the Golden Age of Mexican film. RAMONA is set Southern California and provides an important portrayal of life in this region during the 19th Century.
RAMONA screens Sunday, Oct. 18 at 1pm at The Frida Cinema in Santa Ana as part of the 6th OC Film Fiesta. Tickets are $10 general, $8 students and $7 members. Group discounts are available. Festival weekend passes are only $25 and include all the films. Tickets are available online at www.ocfilmfiesta.org or at the Frida Cinema box office. The Frida Cinema is located at 305 E. 4th St. in downtown Santa Ana. Proceeds benefit Media Arts Santa Ana (MASA) and The Frida Cinema.
ABOUT THE COMPOSERS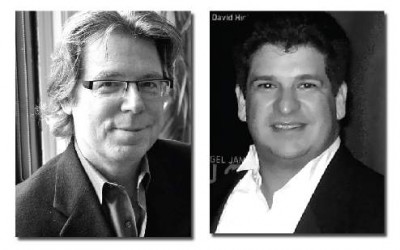 DAVID SPEAR
Composer, conductor and pianist, David Spear began his career orchestrating many film scores for Elmer Bernstein including Animal House, Airplane, Ghostbusters, and Heavy Metal. He composed scores for three Academy Award Nominated Films: Rainbow War, The Courage to Care and Ballet Robotique. He has led the Royal Philharmonic and conducted the Indianapolis Symphony in the world premiere of The Langston Hughes Project featuring Ice-T and the Ron McCurdy Quartet. He also led the development of the restored 1922 Yiddish silent film Hungry Hearts.
JOSEPH JULIAN GONZALEZ
Joseph Julian Gonzalez is an award-winning composer for theater, television and film, including Children of GIANT, Resurrection Blvd. and the Academy Award nominated Colors Straight Up. He is an avid researcher of early Californio music. His major symphonic work, Misa Azteca, has been performed worldwide, including at the Vatican, the Sydney Opera House and sold out performances at Carnegie Hall.
The 2015 OC Film Fiesta is produced by Media Arts Santa Ana (MASA), a project of Community Partners, a 501(c)(3) non profit organization and is made possible with the support of the Mexican Consulate in Orange County, the Library of Congress, Amazon Studios, IMCINE, Santa Ana Business Council, OC Hispanic Chamber of Commerce, Arts OC, The Frida Cinema, Teresa's Jewelers, United Artists of Santa Ana, OC Gente, Miniondas, Stay Connected OC, Espacio Alternativo, Para Todos, CO4 LGBT Center on Fourth, Santa Ana College Digital Media Center, Pocharte, Aztec Gold TV, Marcas Gallery, Robbins Nest Wine Bar and Bistro, Kutsi, DTI and Beatnik Bandito Music Emporium. For info, email: info@ocfilmfiesta.org or call 619-701-0073.
###