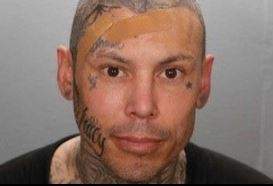 On May 4, 2021, Detectives from the Fountain Valley Police Crime Suppression Unit received information that a wanted subject, 43-year-old David Kalani Gardner, an Orange County Probationer out of the City of Irvine, was hiding out at a Motel 6 in the City of Santa Ana.
Gardner was previously arrested in March 2021 by Fountain Valley Police patrol officers after a traffic stop was initiated in the area of Harbor Blvd and Heil Ave, in the City of Fountain Valley. During that incident, Gardner was in possession of a loaded handgun, approximately 1.5 pounds of methamphetamine, approximately 1.5 ounces of heroin, and a large sum of cash. (DR# 21-07781).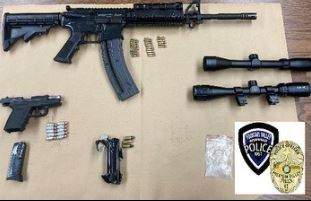 Detectives worked with Special Agents from the Federal Bureau of Alcohol, Tobacco, and Firearms (ATF) to issue a federal complaint and warrant for Gardner regarding the previously mentioned case.
In an attempt to avoid apprehension, Gardner had fled to Northern California and Oregon. Upon his return to Orange County, Detectives conducted surveillance on Gardner and he was taken into custody for the federal warrant, as well as several other Orange County warrants. Detectives conducted a probation search of Gardner's hotel room and located a stolen rifle, a loaded handgun, body armor, two rifle scopes, and methamphetamine.
Gardner was booked at Orange County Jail for the arrest warrants as well as various weapons violations charges, to include felon in possession of a firearm and ammunition. (DR# 21-13728).