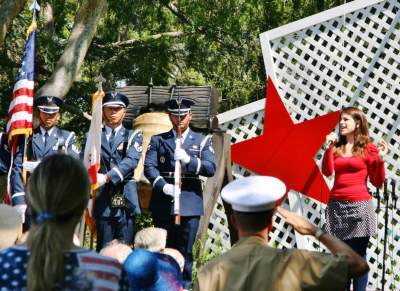 FAIRHAVEN SEEKS "STAR SPANGLED SINGER" TO PERFORM AT MEMORIAL DAY CELEBRATION THROUGH VIDEO CONTEST
Contest winner to perform for at one of Orange County's largest Memorial Day celebrations
SANTA ANA, Calif. – March 14, 2013 – Aspiring singers can win a chance to perform the Star Spangled Banner at Fairhaven Memorial Park's 21st annual Memorial Day Event. March 26 through April 30, Southern California residents are invited to submit a YouTube video link of their rendition of the Anthem. The winner of the "Star Spangled Singer" contest will perform in front of a festive crowd of more than 3,500.
"We are fortunate to serve a community that is filled with talented and patriotic people," said Marla Noel, president of Fairhaven Memorial Park. "This one-of-a-kind singing contest gives members of the community a chance to participate in the remembrance of those who served valiantly for our country and celebrate the freedoms we've gained through their sacrifice."
Fairhaven's Memorial Day event is among the largest in Orange County. Guests will enjoy live music, delicious food and a salute to our nation's past, present and future. The event will be held on Monday, May 27th at Fairhaven Memorial Park, where the contest winner will kick off the festivities.
This marks the second year Fairhaven has held the "Star Spangled Singer" contest. 2012's contest winner was Jennifer Malman, a 25-year-old Garden Grove resident and avid theatre enthusiast who brought the audience to its feet.
Contestants aged 13 or older are invited to submit their YouTube video link to contest@fairhavenmemorial.com. For more information visit http://www.fairhavenmemorial.com/community/events.htm or email Cynthia Adair at cadair@fairhavenmemorial.com.
About Fairhaven
Founded in 1911 by Oliver Halsell to provide a peaceful and comforting place for families to honor their loved ones, Fairhaven Memorial Park & Mortuary is Orange County's most beautiful independently owned and operated full-service mortuary, crematory and cemetery. With the memorial park and mortuary in Central Orange County and an elegantly appointed mortuary in South Orange County, Fairhaven offers a wide range of pre-need and at-need services provided with care and compassion. Fairhaven is dedicated to celebrating the individual, providing services that are as unique and wide-ranging as the people they celebrate. Additional information is available at www.fairhavenmemorial.com.
# # #