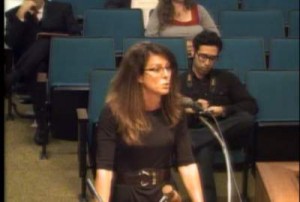 Santa Ana Deputy City Manager Jill Arthur was placed on administrative leave this week pending a city-commissioned investigation into allegations that she engaged in misconduct following a traffic accident, according to the Voice of OC.
The Voice of OC reported that "According to sources familiar with the investigation who spoke on condition of anonymity, Arthur was involved in a car accident with Marcel Alvarez, a 22-year-old Buena Park resident. Rather than exchange insurance information, Arthur offered to get Alvarez a job by leveraging her influence at the Santa Ana Work Center, a city office that assists residents in finding employment, sources said."
I heard about this yesterday but could not post it as the story was embargoed at the time.  So who leaked this story?  Could it be the same Council Members who have complained about us breaking Santa Ana news stories all the time?  Council Member Vince Sarmiento went nuts over this recently.
If you ask me, this story got out when a Council Member gave the police report to the Voice of OC.  I am guessing it was either Michele Martinez or David Benavides.  Were they the ones that also gave the Voice of OC the fake story about a rape that didn't happen at a party at Santa Ana Mayor Miguel Pulido's house?  Remember that story went out when Benavides was running for Mayor against Pulido.
Arthur has been close to Santa Ana Mayor Miguel Pulido for many years.  The Santa Ana City Council moved to fire our last City Manager, Paul Walters, in part to reduce Arthur's influence at City Hall, only to see her get promoted by their highly paid temp city manager, Kevin O'Rourke.
I am told that Martinez and Benavides now want to get rid of O'Rourke even sooner.  Until that happens I guess they will have to satisfy themselves by taking out Arthur.  If the allegations are true, Arthur is finished and could face criminal charges.  Her career prospects would be nil. If Arthur did what she is accused of then she deserves what is coming.  But I wonder how many DUIs Benavides and Martinez have gotten out of since they became part of the Council's majority?