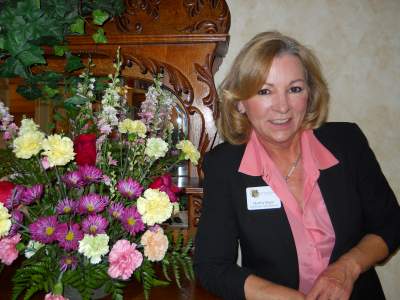 FROM RESTAURANT EXEC TO BUSINESS OWNER TO LIFE ENRICHMENT DIRECTOR, MARTHA MEYER HONORED WITH FAIRHAVEN'S OLIVER HALSELL CARE AWARD
SAN CLEMENTE, CALIF. – April 22, 2013 –Martha Meyer's path to working with seniors was an unexpected one. The San Clemente resident spent 23 years as a restaurant executive before owning a successful women's fashion boutique in Laguna Beach. In 2000, she and her husband moved to a community with a large elderly population. "I always loved helping the people in the neighborhood," she recalls. "I would help them with their gardening, pick up their groceries, take them to lunch and organize little get-togethers."
When Meyer sold the boutique and was considering her next move, a friend told her about a job opening at Del Obispo Terrace Senior Living. "I never really considered it as a career but realized it would give me an opportunity to do something truly meaningful," she says. This leap of faith proved to be the best move yet, both for her and the 70-plus residents at Del Obispo Terrace.
Meyer is being honored as the April recipient of Fairhaven's Oliver Halsell Care Award. Fairhaven, an Orange County mortuary and memorial park with locations in Santa Ana and Mission Viejo, created the recognition program in 2012 to pay tribute to individuals who have demonstrated exceptional care in their profession, community and the world at large.
"Martha's success as a manager, entrepreneur and community leader helped her to create a one-of-a-kind experience for Del Obispo Terrace's residents," said Marla Noel, president of Fairhaven. "Her ability to infuse fun, education and community service into their daily lives is reflective of her unbridled enthusiasm and caring spirit."
Since taking over as Del Obispo Terrace's Life Enrichment Director, Meyer has built one of the region's most unique and extensive social programs, centered on what she calls the "Three E's:" Engage, Enrich, Empower. She oversees a staggering 190 activities each month, including a Sunshine Club, poetry club, beach exercise program, technology education classes, drama program and even a monthly comedy club, where residents try their hand at stand-up comedy. "You'll laugh until you cry," she says.
One of Meyer's most notable contributions has been the establishment of an extensive community outreach program, where residents have participated in service projects with the Dana Point/San Clemente Animal Shelter, Toys for Tots, The San Diego Zoo's Adopt a Panda Bear program and The American Cancer Society's Relay for Life. "Our residents are always looking for an opportunity to give back," said Meyer. "This program enables them to be part of something special and affirms their important role in the community."
With so many responsibilities, Meyer draws her seemingly limitless energy and enthusiasm from what she calls her "adopted family," the residents of Del Obispo Terrace. "They've given me so much more than I have given them," said Meyer. "The many life lessons they have taught me and their generosity inspires me to reach new heights every day. They are the ones who should win an award."
Meyer will be honored at Fairhaven's Oliver Halsell Care Awards banquet in the fall at Fairhaven's Mission Viejo location. The banquet honors a year's worth of achievements among the local community. Additionally, Fairhaven will make a donation to the American Cancer Society on behalf of Meyer.
About Fairhaven's Oliver Halsell Care Award
Fairhaven's Oliver Halsell Care Award pays tribute to Orange County individuals whose kindness and dedication to serving others is inspirational. These courageous individuals go above and beyond their job descriptions to serve with the utmost care and compassion. Fairhaven's Oliver Halsell Care Award winners come from many fields including private care, hospice, social work, counseling, assisted living, nursing, therapy and volunteer work.
For more information and to nominate a deserving candidate, visit Fairhaven's website: http://www.fairhavenmemorial.com/community/oliver-halsell-care-award or email CareAwards@FairhavenMemorial.com.
About Fairhaven
Founded in 1911 by Oliver Halsell to provide a peaceful and comforting place for families to honor their loved ones, Fairhaven Memorial Park & Mortuary is Orange County's most beautiful independently owned and operated full-service mortuary, crematory and cemetery. With the memorial park and mortuary in Central Orange County and an elegantly appointed mortuary in South Orange County, Fairhaven offers a wide range of pre-need and at-need services provided with care and compassion. Fairhaven is dedicated to celebrating the individual, providing services that are as unique and wide-ranging as the people they celebrate. Additional information is available at www.fairhavenmemorial.com. Connect with Fairhaven at www.facebook.com/fairhavenmemorial or www.twitter.com/fairhavenoc.
# # #