In recognition of National Public Works Week, the City of Santa Ana Public Works Agency invites you to a free family community event on Saturday, May 21, 2022, from 11 a.m. to 2 p.m. at the Walnut Water Pump Station located at 723 W. Walnut Street.
Highlights of the event include free tacos to the first 500 guests, prizes, tours of the state-of-the-art water pump station, a water pipe connection competition, various Public Works exhibits, and large equipment displays.
Free event parking is available in the lot at Flower Street and Pine Street. For more information visit https://bit.ly/3M7U2ZT.
EEvento comunitario familiar gratuito de Obras Públicas de Santa Ana programado para este Sábado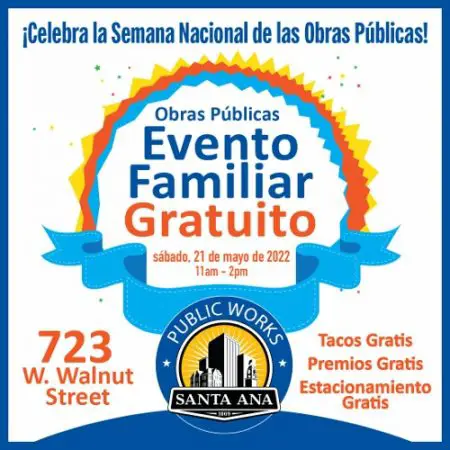 En reconocimiento a la Semana Nacional de Obras Públicas, la Agencia de Obras Públicas de la Ciudad de Santa Ana lo invita a un evento comunitario familiar gratuito el sábado 21 de mayo de 2022, de 11 am a 2 pm en la Estación de Bombeo de Agua Walnut ubicada en 723 W. Walnut Calle.
Los aspectos más destacados del evento incluyen tacos gratis para los primeros 500 invitados, premios, recorridos por la estación de bombeo de agua de última generación, una competencia de conexión de tuberías de agua, varias exhibiciones de Obras Públicas y grandes exhibiciones de equipos.
El estacionamiento gratuito para eventos está disponible en el lote de Flower Street y Pine Street.  Para más información visite https://bit.ly/3M7U2ZT.