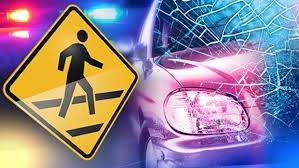 An unidentified 81-year-old Santa Ana man was struck on Friday morning at 6:17 a.m., while crossing the right-hand northbound lane of Fairview Road, 50 yards south of Baker Street, in Costa Mesa, causing two lanes to be closed during the investigation, according to the O.C. Register.
The elderly victim was walking eastbound when Bao Hoai Duong, 52 of Garden Grove, who was driving a 2002 Dodge van northbound on Fairview Road, struck him.
The elderly victim's head hit the windshield before he fell onto the road.  He was taken to Orange County Global Medical Center in Santa Ana.  He was reported to have broken his right shoulder, right knee and left leg.  He might also have fractured his skull and sustained brain trauma.
The  victim was in serious condition on Friday morning and there were plans to move him to the hospital's intensive care unit.
The driver who hit him, Duong, stayed at the scene of the crash and cooperated with police investigators, who shut down the right two lanes of the road.
The police reported that the driver was neither injured or impaired at the time.
Witnesses who saw the crash are asked to contact the Costa Mesa police Investigator Darren Wood at 714-754-5264.