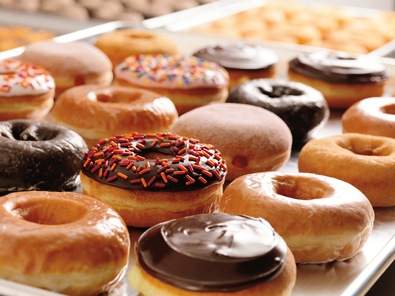 DUNKIN' DONUTS CELEBRATES OPENING OF DD GREEN ACHIEVEMENT™ SANTA ANA RESTAURANT ON JULY 7
Ribbon cutting ceremony and promotions will commemorate opening of a new, energy-efficient Dunkin' Donuts restaurant in Orange County
SANTA ANA, CALIF. (June 26, 2015) – Dunkin' Donuts, America's all-day, everyday stop for coffee and baked goods, today announced that it will open a restaurant in Santa Ana at 100 South Harbor Boulevard on July 7 at 5 a.m., making this the second location in Orange County. The new location will offer Santa Ana residents the full array of Dunkin' Donuts' iconic offerings, including fresh-brewed coffee, delicious baked goods and sandwiches. The location, a DD Green Achievement™ restaurant, will feature energy- and water-saving features including LED lights, high-performance windows and low-flow faucets. DD Green Achievement, Dunkin' Donuts' sustainable restaurant program for U.S. restaurants, helps franchisees build new, sustainable and energy-efficient restaurants.
The first person in both the walk-in and drive-thru lines will be rewarded with free coffee for one year, and the first 100 people to order will receive a Dunkin' Donuts tote bag filled with special items. Guests will have the opportunity to walk Dunkin' Donuts' pink carpet and will be welcomed to the restaurant with free passed samples and photo opportunities with beloved brand mascot, Cuppy.
"We're very excited to continue working with our franchisees to open additional sustainable, energy efficient Dunkin' Donuts restaurants in the area," said Monica Apodaca, Senior Field Marketing Manager, Dunkin' Brands. "We've received a very warm welcome to Orange County, and are looking forward to providing Santa Ana with its very own go-to destination for coffee, lattes, frozen beverages, sandwiches and baked goods."
Local dignitaries will be in attendance to commence the ceremonial grand opening ribbon cutting and welcome Dunkin' Donuts to Santa Ana. The ceremony will also include a check presentation to the Children's Hospital of Orange County. In alignment with Dunkin' Donuts' efforts to support children's health, the restaurant will donate $1,000 to help the organization meet the needs of children and families with first-class care and state-of-the-art facilities.
The Santa Ana franchise will be operated by Robert Jonas, Dan Almquist and Matt Higgins of Frontier Restaurant Group, the group responsible for opening Dunkin' Donuts' Long Beach location in 2014. The Santa Ana restaurant is part of 24 planned Dunkin' Donuts locations being brought to Orange County, South Bay and Bakersfield over the coming years by Frontier Restaurant Group.
"We're looking forward to providing even more guests in Southern California with great coffee, delicious sandwiches and fresh baked goods, day and night," said Matt Higgins, Dunkin' Donuts franchisee. "We're thrilled to soon provide the residents of Santa Ana with Dunkin' Donuts' iconic offerings."
To learn more about Dunkin' Donuts, visit www.DunkinDonuts.com or follow us on Facebook (www.facebook.com/DunkinDonuts) and Twitter (www.twitter.com/DunkinSoCal) for real time updates. For media inquiries, contact dunkindonuts@havasformula.com.
About Dunkin' Donuts
Founded in 1950, Dunkin' Donuts is America's favorite all-day, everyday stop for coffee and baked goods. Dunkin' Donuts is a market leader in the hot regular/decaf/flavored coffee, iced coffee, donut, bagel and muffin categories. Dunkin' Donuts has earned the No. 1 ranking for customer loyalty in the coffee category by Brand Keys for nine years running. The company has more than 11,300 restaurants in 37 countries worldwide. Based in Canton, Mass., Dunkin' Donuts is part of the Dunkin' Brands Group, Inc. (Nasdaq: DNKN) family of companies. For more information, visit www.DunkinDonuts.com.
###