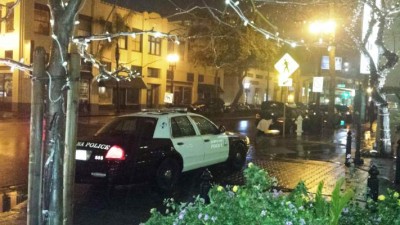 The Memphis at the Santora partied one last time last night, as they are closing down.  But the night ended ominously as a suspect pulled a knife on David Hastie, a partner at the Memphis, which is located in Downtown Santa Ana (DTSA).
David wrote about this on his Facebook page – see the comments in the pictures below.  Apparently David manned up and took the knife away from the suspect.  David called the SAPD and he is pressing charges against the miscreant.  And good news – David wasn't hurt although I am sure his nerves were frazzled.
This knife attack comes just a few weeks after Kim Pham, a 23-year-old Chapman grad, was kicked and stomped to death outside of the hipster bar, The Crosby, which has remained closed since the attack.  Two of Pham's attackers, both female "office workers" are now facing a trial for murder.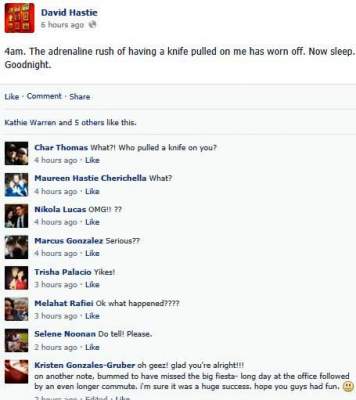 An Irvine resident, Jeffery Lee Chung, was killed in the parking structure near the Memphis a couple years ago.  Like Pham, Chung was only 23 years old.  He was shot by armed robbers at 2 a.m.
There has been a push in the past year by Santa Ana Councilman David Benavides and Planning Commissioner Phil Bacerra to extend bar hours in DTSA to 4 a.m.  (Bacerra pushed for this proposal when he was working as a consultant to Downtown, Inc., before he was appointed, by Benavides, to the Planning Commission).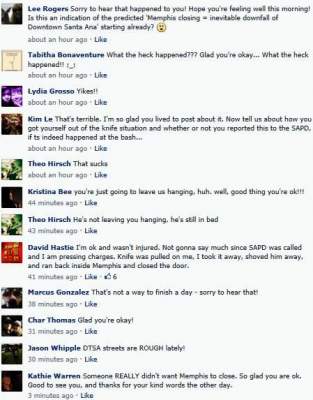 I have seen quite a few comments on Facebook since the Pham murder stating that fights happen all the time in DTSA. Obviously it is ridiculous to push for longer bar hours in DTSA at this point.  It is clear that DTSA just isn't safe anymore.
But the one spot of good news is that apparently the SAPD is now patrolling DTSA.  The area was patrolled by unarmed Downtown, Inc. security guards for far too long.  I always suspected that they were sweeping incidents under the rug.  Now at least we will have SAPD reports to track, over at www.crimemapping.com.  I suspect folks are going to be shocked by what goes on in our Downtown.