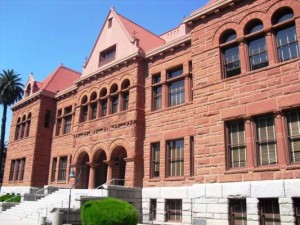 Hugh Nguyen, OC Clerk-Recorder
For Immediate Release Feb. 14, 2014
Questions? Call (714) 834-2500
266 Couples Married on Valentine's Day!
A record number of couples – 266 – were married this Valentine's Day in civil ceremonies performed by Clerk-Recorder Hugh Nguyen and his Deputy Clerks at the Orange County Clerk-Recorder Department's three marriage locations – breaking the long standing Valentine's Day record of 173 couples wed in 1997.
Ceremony rooms were available at the Old County Courthouse in Santa Ana and at the department's branch offices in Fullerton and Laguna Hills. This year, Clerk-Recorder Hugh Nguyen extended operating hours for all three marriage locations in an effort to accommodate the anticipated high demand.
"With Valentine's Day falling on a Friday and before a holiday weekend, we knew demand was going to sky rocket," said Clerk-Recorder Nguyen. "We were ready to provide our customers with excellent customer service and a memorable day regardless of how busy we were."
Valentine's Day continues to be the most popular day of the year for civil marriage ceremonies. The all-time record for marriage ceremonies was set on Dec. 12, 2012 (12/12/12), when 283 couples took the plunge hoping to start their marriages on a lucky date.
In addition to marrying 266 couples, the Clerk-Recorder Department also issued 310 marriage licenses.
Last year, the department issued 224 marriage licenses on Valentine's Day.
The highlight of the day came when Harlem Globetrotters superstars Wun Versher and Thunder Law visited the Old County Courthouse and handed out red roses to welcome couples looking to "tie the knot". The superstars took photos with couples and even served as witnesses in one ceremony.
"It was an honor to have such special guests," said Clerk-Recorder Nguyen. "I would like to thank the Harlem Globetrotters for making this day unique and memorable for the couples who were present during their visit." "I would also like to thank my staff for providing great service and assistance to our many customers on this busy day."
The Orange County Clerk-Recorder provides a variety of public services, including recording documents relating to real property transactions; maintaining and issuing copies of birth, death and marriage certificates; issuing marriage licenses and performing civil marriage ceremonies. The department also oversees the Orange County Archives.
###