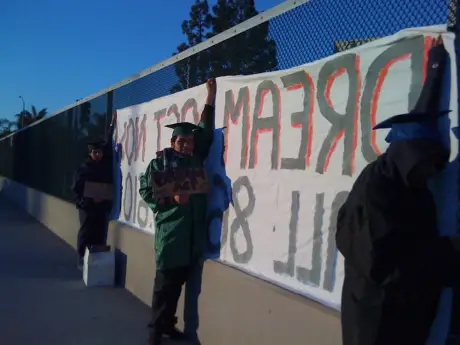 Orange County DREAM Team's Banner Holding for the DREAM Act in Santa Ana, CA. 11/28/2010
FOR IMMEDIATE RELEASE – November 24, 2010
Contact: Aura Vasquez, 714-931-6045, aura@occcopico.org or Vanessa Martinez, 714-767-9860, vanessa.clue@gmail.com
Top Faith and Community Leaders "March for the DREAM" with Orange County Congregations, Families, and Students
Orange County Congregation Community Organization (OCCCO), in partnership with the Orange County DREAM Team (OCDT) and Clergy and Laity United for Economic Justice (CLUE OC), will hold a "March for the DREAM" in support of the DREAM Act, providing a pathway for citizenship and higher education to college bound immigrants and those serving in the US Military. OCCCO, CLUE, OCDT, and their partners urge Senators to show moral leadership and vision when voting for the DREAM Act.
WHO:
Bishop, Dominic Luong, Diocese of Orange
Dr. Jose Moreno, School Board President of Anaheim School District
DREAM ACT Student Testimonies
Community organizations including Los Amigos of Orange County and the League of Women Voters
Anaheim Union High School District
Other clergy and top religious leaders from Orange County
Chaired by: OCCCO Leaders Jan Meslin from Tapestry Unitarian Universalist Congregation and Annan Aboul-Nasr from the Islamic Institute of Orange County
WHAT: "March for the DREAM" – Families, youth, and clergy from Catholic, Protestant, Muslim, and Unitarian congregations throughout Orange County will gather together for a march from St. Boniface to Anaheim High School to hold a press conference in support of our immigrant youth. As communities of faith, the march to the school symbolizes putting our faith into action to stand in solidarity with students and urge Senators to support the DREAM ACT.
WHEN: Tuesday, Nov. 30, 2010 – 2:30 pm to 3:15 pm, press conference starts at 2:45 at Anaheim High School.  Click here to RSVP on Facebook.
WHERE: Starts: St. Boniface Catholic Church, 120 N. Janss Street, Anaheim, CA 92805
Ends: Anaheim High School, 811 West Lincoln Avenue, Anaheim, CA 92805
VISUALS: Clergy, students, families marching and standing together, with signs saying "ready to serve", "we want the American DREAM", and "I want to be a teacher, lawyer, nurse, doctor, etc."
MORE INFORMATION
Thousands of hard working young people who were brought to the United States as infants or children can now be locked up in federal detention centers and deported to a country they've never known. The DREAM Act could stop the injustice by giving students who have grown up and graduated high school in the United States the opportunity to earn legal status college or military service. For almost 10 years immigrant youth have been fighting for the passage of the DREAM Act. As people of faith, we support the DREAM Act because we believe in protecting the dignity of every human being, especially that of our children.
BACKGROUND ON PARTICIPATING ORGANIZATIONS
Orange County Congregation Community Organization (OCCCO) is an interfaith network of 22 member congregations and civic groups representing 50,000 families in eight cities throughout Orange County. OCCCO was established in 1985 and is a current member federation of the PICO National Network – the largest faith-based organizing network in the nation, representing more than 1 million families across the United States.
Clergy and Laity United for Economic Justice of Orange County (CLUE OC) provides spiritual leadership in the movement to achieve economic justice in Orange County. We seek to achieve a California with a moral economy where workers will have just wages and safe working conditions. We also seek the removal of barriers that hinder full participation of low wage workers and immigrant families in society and the workplace, including the reform of our immigration system. CLUE Orange County is one of 13 affiliates of the statewide network CLUE California
The Orange County DREAM Team (OCDT) is an organization composed of students, allies and community members, who advocate for the rights of undocumented students of all nationalities and is also dedicated to the passage of the DREAM Act.