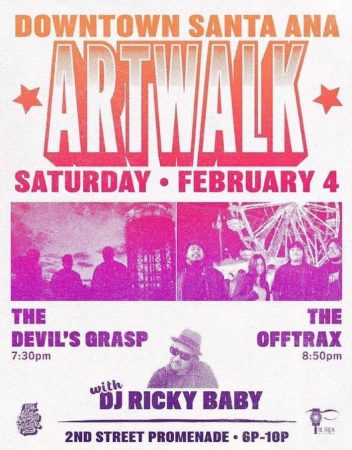 Santa Ana's acclaimed nonprofit Frida Cinema has taken over management of the Santa Ana ArtWalk. Held on the first Saturday of each month, the free event features multiple exhibitions and open galleries in addition to performances, according to Arts Orange County.
The Next Santa Ana ArtWalk is set for Saturday, February 4th, at 125 N. Broadway, Santa Ana, from 6 p.m. – 10 p.m. Musical performances will be by The Devil's Grasp, at 7:30 p.m., and The Offtrax, at 8:50 p.m., with tunes by DJ Ricky Baby. Click here for a directory of restaurants in DTSA. Click here for a list of the art galleries in DTSA.
The ArtWalk is a free, all-ages, community-based arts showcase that takes place throughout  Downtown Santa Ana, 6pm-10pm on every First Saturday of each month (unless otherwise noted). Join friends and neighbors for live art, outdoor vendors, live music, dancing under the stars, and over twenty art galleries and studios featuring rotating exhibitions, performances, and more.
"I've long considered First Saturday ArtWalk to be the flagship monthly cultural event in Downtown Santa Ana, and I know that's a sentiment shared by so many in our community," said Frida Cinema Executive Director Logan Crow. "Particularly after the myriad of challenges our community has faced over the last few years, it would have been a tremendous loss to see these events cease to be, so it's an incredible honor for The Frida Cinema to take the reins as ArtWalk's producer, and as the custodians of its growth and sustainability. We were so grateful to be able to work quickly to kick off the New Year with a wonderful ArtWalk in January, and we look forward to continuing to partner with fellow artists and leaders in identifying opportunities for expansion for this beloved monthly celebration of creativity, community, and collaboration."