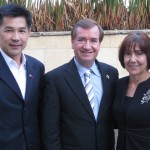 Will Lucille Kring's GOP pals put her over the top in the 34th State Senate District in November?
Does it really matter that Republican Lucille Kring got more votes than Democratic State Senator Lou Correa, in the primary election this week?
Kring, who is an Anaheim Councilwoman, got about 700 more votes than Correa.
As one might expect, Red County editor Matt Cunningham is crowing about this as if it matters.
But does it?
Democrats hold an advantage overall in the district, with 44% of the vote.  The GOP has 32.73% of the vote and 19.27% of the voters are Decline to State.
Latinos hold a huge advantage in the district, with 58% of the vote.  White voters come in at only 21.6% of the vote and Asian voters have just over 10% of the vote.
There are over 315,000 registered voters in this district.  Kring and Correa, combined, got just over 32,000 votes.  Clearly many voters tayed home – presumably most were Democrats.
In November things will be quite different.  Congresswoman Loretta Sanchez will be working hard in the same area to get out the vote.  So will Assemblyman Jose Solorio.  Correa will be able to count on both of them for significant help.
Kring is already working closely with Mexican-hater Van Tran, who is challenging Sanchez.  Solorio faces only token opposition.
The key will be the Latino vote.  Correa will need to get Latinos to the polls in order to prevail.
It should be noted that Correa has made vast inroads into the Vietnamese community.  And this time he will be helped by Democratic candidate Phu Nguyen, who will be challenging the worst Mexican-hater, Allan Mansoor, over in the 68th Assembly District, which is part of the 34th State Senate District.
No legislator works harder than Correa.  Kring should relish her primary votes as the general election promises to have a very different ending.