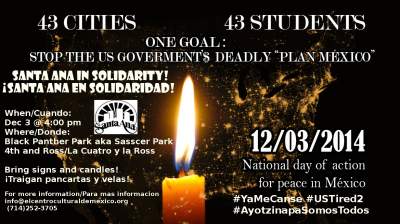 The Colectivo Tonantzin is hosting a demonstration in Santa Ana on December 3, 2014, to send a message that Santa Ana is in solidarity with the people of Mexico who are still trying to figure out what happened to 43 missing college students.  The event organizers want to send "two powerful messages to Mexico: To the people of Mexico, you are not alone. To the Mexican government, the world is watching you."
The event organizers reported on Facebook that "On December 3rd, 2014, we will go out into the streets and demand the US government to abide by the Leahy Law and to stop military assistance to the Mexican government, which flagrantly violates human rights with total impunity!"
The event will be held at 4pm at Sasscer Park, located at 4th St. and Ross St., in Santa Ana.
About the 43 missing students: On September 26th and 27th in Iguala, Guerrero, 43 students of the rural teachers school "Raul Isidro Burgos" in the nearby town of Ayotzinapa, were kidnapped by local police officers with the aid of hooded men from the drug cartel "Guerreros Unidos". Another six people, including three more students of Ayotzinapa, were killed. The response of the local, state, and federal authorities has not just been mediocre and inept, but also seemingly complicit. The State's actions show the level of corruption, incompetence, and disdain of Mexican authorities towards the many thousands of people who have been killed and disappeared. Social protests have erupted throughout Mexico, with massive demonstrations that have sparked a light for hope and justice.
In related news, three dozen or more Mexican bus drivers who say they are being forced by activists from the school that was attended by the missing students to live as captives and act as chauffeurs for the very people who commandeered their vehicles, according to Fox News.  The bus drivers are not making any money while they are held captive and their employers are holding them accountable for the buses.  The drivers have not been allowed to see their families.