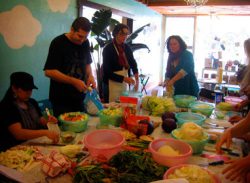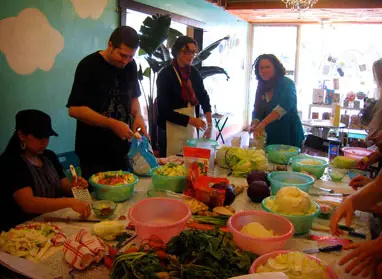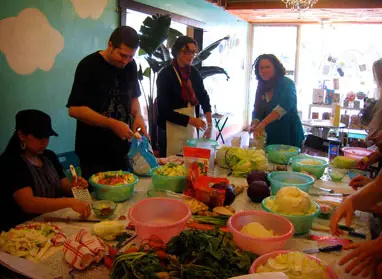 Don't settle for boxed chocolates this year.  Buy your Valentine something truly special, at Santa Ana's the Road Less Traveled.  Join your love in a class on how to make your own gourmet fermented goods, or learn how to do your own canning, or even how to make your own non-toxic bath products.
Here is the Road Less Traveled's February class calendar:
This weekend!
Fermentation 2- kombucha, yogurt and vinegar: Join MFP Ernest Miller in this comprehensive fermentation workshop where you will receive samples, recipes and cultures to make your own gourmet fermented goods. (2/5, 11-1)
Canning 101: MFP and store owner Delilah Snell teaches you the basics behind home canning and preserving. Learn how to make 3-4 basic canned items that use peak Winter produce. Recipes, snacks and take home goods included-ONLY A FEW SPOTS LEFT! (2/6, 11am-2)
Natural & Non-toxic Bath Products: Make your own non-toxic bath products and receive a free sample of Au-She natural cosmetics! Great for sensitive skin and kids. (2/6, 2-4:30)
Just in time for Valentine's Day
Basket Weaving: learn to make a cute gift for anyone using natural materials. $25
Truffles: make delicious truffles with a number of creative flavors in addition to other chocolate treats with Courtney of C-Salt gourmet-ONLY A FEW SPOTS LEFT! $35
Natural Soda Workshop:  even though it's after Valentine's, this is a great workshop for the whole family. Learn to make natural root beer and ginger beers from award-winning brewmaster, Matt Staley. $25
and more foodie workshops in February…
Aprons!: learn to make 2 different styles of aprons for yourself or as a great housewarming gift-$45
Foraged Foods Walk: Join Naturalist Joel Robinson on a forgaing walk where you will learn to identify, taste and locate the food of Orange County wilderness (cooking class is March)-$25
Biscuits & Butter: make savory biscuits with homeade compound butters for a comfort treat year-round!-$40 (call our store to RSVP)
Cheese 101: homemade ricotta, mozzarrella and more-YUM!-$50
*HOW TO REGISTER*
1. purchase a class HERE
2. call the store at: 714.836.8727
3. send an email
The Road Less Traveled is located at 2202 1/2 N. Main St., in Santa Ana. Phone (714) 836-8727.