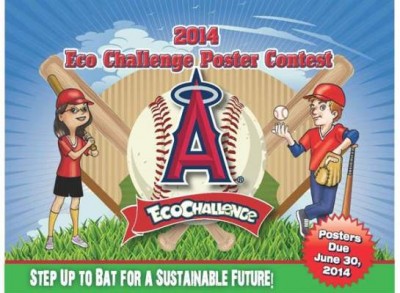 County of Orange and Discovery Science Center Present 2014 Eco Challenge Poster Contest

Celebrate Orange County's 125th anniversary. Step up to bat for a sustainable Eco Future!

The challenge invites boys and girls between the ages of eight and fourteen (8-14) to use their imagination and get creative in designing a unique eco-themed poster. In celebration of the 125th anniversary of the County of Orange, the County is looking for young artists to create artwork demonstrating what the next 125 years will look like if we take the Eco Challenge and work toward a sustainable future.
"The County was pleased to introduce the Eco Challenge poster contest last year and the winners were thrilled with the Angels Bat Kid experience. This year, we're excited about the theme that focuses on the future in honor of the County's past," said First District Supervisor Janet Nguyen. "I look forward to seeing the talent of our local youth."
Posters are due by Monday, June 30, 2014.They must be delivered in person or mailed to Discovery Science Center. Five lucky winners (one from each of Orange County's Supervisorial District) will be awarded the status of Honorary Bat Kid during one of five predetermined Angels Baseball home games in July, August or September 2014. Winners will also receive the following:
Four tickets to a predetermined Angels home game
Complimentary parking for the game
One Bat Kid uniform
One official baseball for autographs
One on-field credential for dugout access (for Bat Kid only)
Recognition on the video board during pre-game activities
One professional field photo
Board of Supervisors Chairman, Shawn Nelson states: "The County's partnership with Angels Baseball and Discovery Science Center is producing results. More Angels fans are visiting the Eco Challenge exhibit and learning about a sustainable future."
Contest Rules and Eligibility
Eligibility
Contest is open to boys and girls who will be between the ages of eight (8) and fourteen (14) at some point during the Angels Baseball regular season.
Design Guidelines
Size: Minimum: 11" X 17" Maximum: 18" X 24"
Materials: Poster should be designed on a white background. Artwork should not be computer generated. Paints, crayons, chalks, markers, pencils, pens, etc. are allowed.
Content: Artists are allowed to incorporate text relevant to environmentally friendly message. The visual design of the poster must relate to one of the above themes. Poster should be vibrant and aesthetically appealing. Copyrighted characters or name brands (e.g., Coca-Cola, McDonald's, etc.) should NOT be used in artwork; use of such brands or characters will result in disqualification.
Please do not fold posters. Entries must be matted, flat or rolled, and not folded.
Name, address, age, phone number, and district must be written on the back of the poster.
Poster orientation: Portrait
Judging
Posters will be judged based on originality (20%), visual clarity (20%), relevance to theme (20%), artwork (20%), and effectiveness of message (20%). Winners will be selected by the County of Orange, Discovery Science Center and Angels Baseball leadership.
Deadline and Submission Process
Posters should be mailed or brought to Discovery Science Center at the address below by June 30, 2014. Limit one (1) entry per contestant. Winners will be notified by phone by July 31, 2014. Winners will have ten (10) days to claim their prize, after which the prize will be awarded to another winner. A completed Waiver Release Form must be submitted with your entry to be eligible to win.
Discovery Science Center
Attn: Bat Kid Contest
2500 N. Main St.
Santa Ana, CA 92705
Submittals should indicate on the Supervisorial District in which the contestant resides:
1st District Garden Grove, Midway City, Santa Ana, Westminster, Fountain Valley
2nd District Buena Park, Costa Mesa, Cypress, Fountain Valley, Huntington Beach, La Palma, Los Alamitos, Newport Beach, Seal Beach, Stanton, Rossmoor
3rd District Anaheim Hills, Irvine, Orange, Silverado Canyon, Modjeska Canyon, Tustin, Villa Park, Yorba Linda
4th District Anaheim, Brea, Buena Park , Fullerton, La Habra, La Habra Heights, Placentia
5th District Aliso Viejo, Coto de Caza, Dana Point, Irvine, Laguna Beach, Ladera Ranch, Laguna Hills, Laguna Niguel, Laguna Woods, Lake Forest, Las Flores, Mission Viejo, Rancho Santa Margarita, San Clemente, San Juan Capistrano, Crystal Cove, Emerald Bay
Any posters not claimed by September 30, 2014 will be recycled. To claim your poster, please e-mail ocecochallenge@ocwr.ocgov.com.
About the County of Orange and OC Waste & Recycling
The mission of the County of Orange is to make Orange County a safe, healthy, and fulfilling place to live, work, and play, today and for generations to come, by providing outstanding, cost-effective regional public services. OC Waste & Recycling helps fulfill this mission by meeting the County's solid waste disposal needs by providing waste management services, protecting the environment, and promoting recycling in order to ensure a safe and healthy community for current and future generations.
OC Waste & Recycling manages one of the nation's premiere solid waste disposal systems, which serve 34 cities and over three million residents. OC Waste & Recycling operates a network of three active landfills and four household hazardous waste collection centers. Visit http://www.ocecochallenge.com/ for more information.
About Discovery Science Center
For 25 years, Discovery Science Center (DSC) has been a non-profit organization dedicated to educating young minds, assisting educators to teach science and increase public understanding of science, technology, engineering and math through interactive exhibits and programs. With one of the largest education outreach programs in the county and an unparalleled approach at creating immersive, game-based exhibits, DSC is revolutionizing how educational content is delivered. Throughout the year, guests can take the Eco Challenge and become a green superhero or feel the power of a simulated rocket engine launch. Traveling exhibits and annual events such as Spooky Science and Bubblefest throughout the year ensure that there is always something new to discover. In 2012, DSC was named one of the ten "Most Trusted Brands" in Orange County and in 2013 was awarded the National Medal of Service from the Institute of Museum and Library Services. DSC owns and operates the Taco Bell Discovery Science Center based in Santa Ana, California and will be opening a second facility in Los Angeles in 2014. For more information, call (714) 542-CUBE or visit http://www.discoverycube.org/.