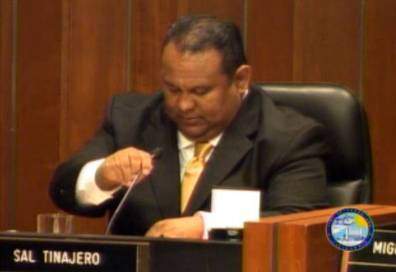 Santa Ana City Councilman Sal Tinajero is finally getting behind an idea that we have been touting for years – changing Santa Ana's City Council elections to a Ward-Specific model, according to the O.C. Register.
Currently the City Council candidates have to live in the Wards they represent but the voting is conducted at-large, or citywide. That favors well-funded candidates who will sell out to special interests while the Ward-Specific model would be a boon to grassroots candidates as it is possible to walk an entire Ward but almost impossible to walk the entire City of Santa Ana.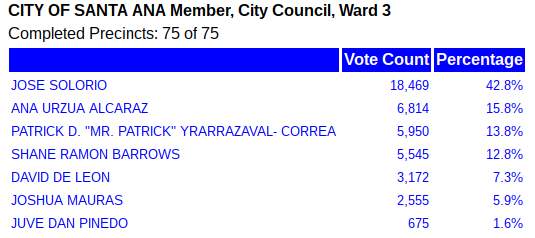 Apparently Tinajero warmed up to the Ward-Specific model because he is unhappy that former Santa Ana City Councilman Jose Solorio moved from Ward 1 to Ward 3 and then completely destroyed a pile of candidates that included Tinajero's ally, David De Leon.
Ironically if we had Ward-Specific elections now it is likely that De Leon would have still lost as Ward 3 voters may well have elected another candidate, such as Josh Mauras instead. Ward 3 voters are better educated and have higher income, on average, than voters in the rest of the City of Santa Ana. I doubt they would have preferred the slovenly De Leon. Mauras, an attorney and a Neighborhood Hero, would have been a preferred choice. In fact a Ward-Specific system would allow a non-Latino candidate to win in Ward 3 as there are still a lot of white voters in north Santa Ana, which is represented by Ward 3.
I hope the Santa Ana City Council does indeed change our election system to a Ward-Specific model but don't hold your breath. Tinajero is now part of a City Council minority and he will need four votes to prevail on this. I cannot imagine that the other City Council Members will play ball. Most of the City Council members are on their last City Council terms now and will term out in a few years. I am sure they will want to ensure that their handpicked candidates succeed them. The Ward-Specific model may not enthuse them.
I am personally glad that Solorio won in Ward 3 this year although I wish he had stayed in Ward 1 and defeated Vince Sarmiento instead. Solorio supports hiring more police officers and he is pushing to make the SAPD crime log public. We deserve to know what is happening in our city!
Solorio will be a vast improvement versus the accidental Council Member we were previously saddled in Ward 3 – the useless and invisible Angie Amezcua. Who encouraged her to run for office?  Tinajero of course.