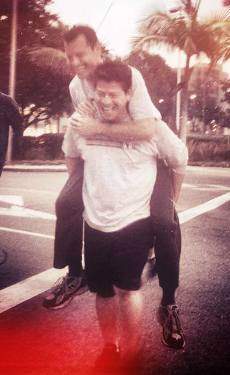 Santa Ana Councilman David Benavides (seen above getting a piggyback ride from Councilman Roman Reyna) is going to be honored by the United Artists of Santa Ana this Saturday, July 6, 2013.  It is hard to believe given that just a year ago Benavides was involved in trying to sell the historic Santora Arts building to his church, Newsong, which is based in Irvine.
Just how involved was Benavides in what turned out to be a complete fiasco?  Here are a few excerpts from local media – note the negative comments from the artists themselves:
Since the Santora sale to Newsong was called off, I have introduced Newsong's minister, Dave Gibbons, to my pastor at Santa Ana's historic First Baptist Church and our congregation will be voting on a merger this month.  Now that is a solution we can all get behind!  But what Benavides tried to do was a bit of a stretch, to say the least.  To honor him now is just ridiculous.  Consider that Benavides ran for Mayor last year against Mayor Miguel Pulido – the one Council Member who actually has worked hard to support the arts in Santa Ana.  Thankfully Benavides lost and lost badly.
I asked the United Artists of Santa Ana about this award, on Facebook.  Here is their reply:
Yup. But every year we want to encourage folks to do the right thing. D's been working hard to make up for last year & we see that. Next year we hope our City leaders really stand behind the Arts so we have mas choices. Our Mayor has certainly set a great example to follow!#Our1stYearHonoree #ElectricalBoxPaintings #ProArte.
So what has Benavides been doing to make up for last year?  Our sources tell us that he spends a lot of time in Downtown Santa Ana's bars and he appears to be working out with Marc Payan in the mornings.  What the heck does any of that have to do with the arts?
Omar Ávalos Gallegos, over at the Santa Ana Sentinel, summed up the Santora mess with an op-ed that really nailed the issues.  Here are a few excerpts:
The Santora issue has everything to do with whatever artists are left trying to protect their interests and prolong their stay in there. A wise move, in my opinion, is for Santora artists to start looking at other areas of the downtown to do art. Frankly, other areas of the downtown need art. Look at other artists that have moved out of the Santora and have regrouped and re-sprouted in other parts of the downtown.

Again, where are the voices of the other more-professionalized and better-organized arts entities on this matter? Would they agree that the Gypsy Den is going to take a financial hit because some artists are no longer in the Santora? Wrong. Wrong. Wrong. Don't flatter yourselves. Someone has to break it to you but some of you artists ARE NOT the reason people come to Santa Ana. People overshoot the Santora galleries to go to the Gypsy Den or Lola's all the time.
I suggested that the United Artists of Santa Ana consider widening their award to include all elected and appointed officials in Santa Ana.  Here is their response:
Spot on! We want to expand the award in years to come to include more peeps, City staff, school board & even posthumous honorees. 

Santa Ana could really blossom economically if it just got its Art Biz right: establishing a community-based Arts & Creative Development dept to restore our famous murals, program ArtWalk, develop Tourism strategies, mas live/work housing, mas public Art, etc & a Film Commission that can funnel filmming permit fees ($400-$600 per prod plus street closures & police security costs) into SA's parks, cultural tourism & arts education. 

Our future as a City would b muy bright if we meaningfully & strategically embrace the Arts!
Benavides doesn't deserve any awards and giving him one on behalf of the arts is misguided and ridiculous.  What has he done this year?  He joined the Council Majority in firing a great City Manager, Paul Walters, and replacing him with a temp City Manager who has cost us $22K a month.  What else has Benavides accomplished this year?  How is he even making a living?  I am told he has no real estate listings but he is supposed to be a realtor.  According to his published City Calendar he shows up at a few arts events.  Yawn.  That alone doesn't merit an award.