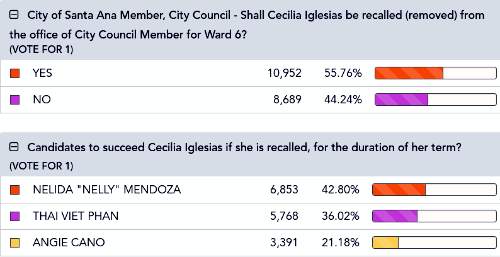 The O.C. Voter Registrar has posted the early results in today's Santa Ana City Council Recall Election and it is not looking good for Santa Ana City Councilwoman Cecilia Iglesias. The Recall Election is succeeding so far with almost 56% of the votes in favor of the recall. The No side is over 2,000 votes behind the Yes side.
Surprisingly the leading candidate to replace Iglesias, should the Recall prevail, is Nelida Mendoza, who lost to Iglesias in the 2018 Ward 6 election. Mendoza has been serving as a Trustee on the Rancho Santiago Community College District's Board of Education. She currently has 42% of the vote and is leading Thai Viet Phan by about one thousand votes.
The Voter Registrar will update these results by tomorrow night.
I don't believe the No side will be able to catch up. As this was a mail only election presumably most of the ballots were turned in a while ago.
The clear winner in this election, besides Mendoza, is Gerry Serrano, the President of the Santa Ana Police Officers Association. He did not back Mendoza in 2018 but presumably she will cater to him now as will most of the rest of the City Council.
Serrano will now look to replace termed out Santa Ana Mayor Miguel Pulido with a candidate of his choosing in the upcoming November election. Right now that looks to be City Councilman Jose Solorio.
Iglesias by the way is already running for Mayor. While the Recall results are a bitter pill to swallow I believe she will continue her Mayoral campaign. She may benefit from the vote split between Solorio and his Council colleague Vince Sarmiento, who will be fighting for the same voters.