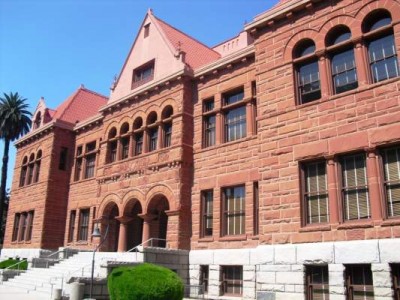 Clerk-Recorder Hugh Nguyen to Offer Expanded Wedding Saturday Hours for Upcoming Valentine's Day
By: OC Supervisor Todd Spitzer, Portions courtesy of OC Clerk-Recorder
Orange County Clerk-Recorder Hugh Nguyen is making it easier for couples to get married this Valentine's Day. The Old County Courthouse in Santa Ana and the department's branch offices in Fullerton and Laguna Hills will be open to the public from 8:00 am to 3:00 pm on Saturday, February 14, 2015.
Appointments are filling up fast for couples wishing to be married on Valentine's Day at the Clerk-Recorder's offices. Couples are encouraged to make an appointment for a civil wedding ceremony due to the popularity of this day. Appointments can be made by visiting our website at www.ocrecorder.com and using the online appointment system. Walk-ins will be accommodated based on availability of ceremony rooms.
"With Valentine's Day falling on a Saturday, we know demand is going to be very high," said Clerk-Recorder Hugh Nguyen. "We will be ready to provide our customers with excellent service and make it a memorable day for all."
Valentine's Day continues to be one of the most popular days of the year for civil marriage ceremonies. Last year, a record number of couples – 266 – were married by Clerk-Recorder Hugh Nguyen and his deputy commissioners of marriage – breaking the long standing Valentine's Day record of 173 couples wed in 1997. The department also issued 310 marriage licenses.
Couples may obtain a public marriage license for $61 or a confidential marriage license for $66. The cost for a civil marriage ceremony is only $28. The Old County Courthouse will be offering marriage licenses, civil marriage ceremonies and passport application services only. Copies of property records, birth, death and marriage certificates will be available at the Fullerton and Laguna Hills branch offices, as well as marriage licenses and civil marriage ceremonies. Please note that the Laguna Hills branch office will also be offering passport application services. Free parking will be available at all three locations.
For more information about the Clerk-Recorder Department or the services provided by the department, please visit www.ocrecorder.com or contact us at (714) 834-2500.