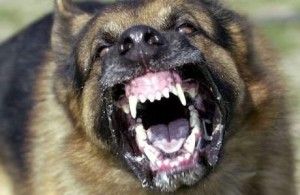 A 33-year-old man, identified as Richard Molina, was suspected of driving a stolen 1997 gray, four-door Honda Civic ran when a Santa Ana police officer became suspicious of a parked vehicle at around 7:40 pm, on Thursday night, in a parking lot near South Main Street and East Dyer Road, according to the O.C. Register.
Molina noticed that an SAPD police car was watching him and he attempted to flee, according to officials.  He drove drove a half-mile north on South Main Street where he crashed into a car near West Warner Avenue. Molina then fled on foot.
A helicopter helped track down Molina, who was lurking in the backyard of a home located in the 200 block of West Anahurst Place.  When Molina would not come out the SAPD sent in a police dog that chased down Molina and bit his legs.
This entire incident happened in Santa Ana's Ward 1, which is represented on the Santa Ana City Council by Mayor Pro Tem Vince Sarmiento.