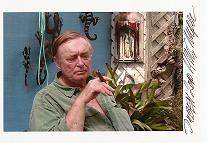 City of Santa Ana, Downtown Orange County
Community Alert: Mayor and City Council Will Honor a Community Member as an Exceptional Citizen at Tonight's City Council Meeting
SANTA ANA, CA (February 4, 2014) – The Santa Ana Mayor and City Council will recognize Oldrich Unger at tonight's city council meeting for his distinguished service and accomplishments within the Santa Ana community.
In 1983, Mr. Unger and his family purchased their first home in the Washington Square neighborhood and soon he became actively involved serving as a block representative, board member and committee member for many neighborhood events. Among his many projects, Mr. Unger hand carved new redwood clock hands for the Historic William H. Spurgeon Clock tower. Mr. Unger has also been the subject of two books published in the last year.
For more details regarding the notable accomplishments of Oldrich Unger, please come to tonight's city council meeting or visit, http://www.santa-ana.org/coc/granicus.asp, to see it streamed live on the web.
####
For full details, view this message on the web.
From a Czech website:
Oldrich Unger was born on January 13, 1934 in the Czech Budejovice. In 1951 he began working in the newsroom at Radio Czech Budejovice. In 1962, he won an audition to be editor of the popular science program on radio Forward in Prague. After his release from the radio station he worked at Komenium, where he was responsible for directing and filming for the school. In 1967 he co-founded Theatre Járy Cimrmana. Eleven years later he and his family traveled to Vienna and after less than a year received permission to emigrate to the U.S. There he worked for several years with his wife as servants for families in Orange County in Southern California. Ulrich Unger is now retired.
From the OC Register:
Their twins – Nik and Daniel – went to Orange High. Nik, an offensive lineman who was inspired to play football after seeing the movie "Brian's Song," got a football scholarship to Southern Methodist University. After SMU was nailed by NCAA sanctions, he finished his college career at Brigham Young University.

The Ungers eventually bought a house in the Washington Square neighborhood of Santa Ana.

They grew to LOVE America. They still have pictures of President Ronald Reagan, whom they credit with aiding the fall of Communism in Eastern Europe, in their home.
Acting filmography