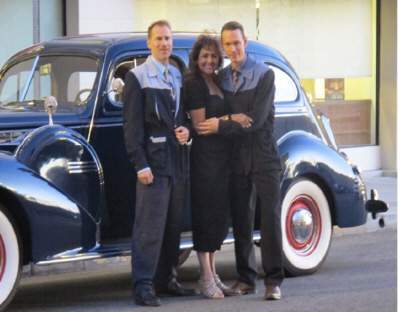 Church of Scientology of Orange County hosts a "Swinging" wedding
By: Danielle Genzen
For the first time since its Grand Opening, the miraculous chapel of the Church of Scientology of Orange County hosts a 40's-style wedding.
On November 12, 2012, Vince Hurley, Pianist for The Jive Aces and his new wife Ramona exchanged their vows at a fabulous 40's themed wedding at the Church of Scientology in Santa Ana.
The bride, Ramona Head, has been a member the Orange County Church for 24 years. She  recently moved to the United Kingdom where she found The Jive Aces, a popular British Swing Band. She soon became their Public Relations Manager, and this is where she also found love.
Vince and Ramona instantly hit it off, and a few months later, decided to seal their relationship right here in Orange County.
The Jive Aces are UK's No. 1 Jive and Swing band, they were semi-finalists on "Britain's Got Talent" in 2012. Their show-stopping versions of Jungle Book favorites "I Wanna Be Like You" and "Bare Necessities", impressed judges Simon Cowell, David Walliams and Alesha Dixon, so much that they exclaimed, "You are so joyful to watch, every single one of you. That was world
class!"
The band comes to California twice a year, so Ramona and Vince decided to hold their wedding in the chapel of the recently renovated Church of Scientology, right here in downtown Santa Ana at 505 N. Sycamore St. After the ceremony, The Jive Aces surprised the attendees with a spectacular performance. "It was a great celebration! Full of life, music and dancing!"
exclaimed Maid of Honor, Cathy Moore. "The wedding was spiritual and uplifting", agreed one of the attendees.
Church of Scientology of Orange County's Executive Director Cathy Moore was joined by Mr. Dave Petit, himself a former executive at the Orange County Church for many years. Mr. Dave Petit now heads the Church of Scientology's Celebrity
Centre International in Hollywood.
He was pleased to lead the ceremony as the officiating minister. Ramona, Cathy and Dave all worked side-by-side for 24 years when, the Church of Scientology still occupied its former building in Tustin, off  Redhill Ave and Irvine Blvd.
Congratulations to Mr. and Mrs. Vince Hurley from everyone at The Church of Scientology of Orange County.
###