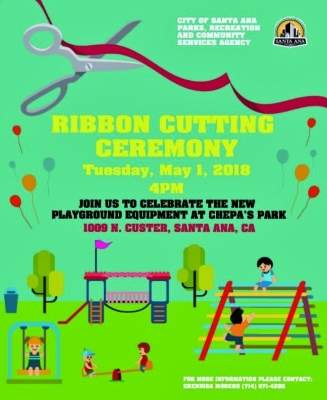 City of Santa Ana
Community: Chepa's Park Ribbon Cutting Ceremony – Ceremonia de Inauguración en el Parque Chepa
Join us to celebrate the opening of a new playground at Chepa's Park. The public is invited to participate in the Ribbon Cutting ceremony in celebration of the new Playground at Chepa's Park located at 1009 N. Custer in Santa Ana. The ceremony will take place on Tuesday, May 1, 2018 at 4:00 p.m. at Chepa's Park.
The new playground at Chepa's park is one of the three sites selected to receive a State-Wide Healthy Play Training & Funding Initiative grant in CPRS' Region 10. Chepa's Park is a 17,600 square feet community park surrounded by apartment complexes and multi-unit homes. With over seventy-eight percent of the immediate surrounding population considered low income, this community is economically challenged with a large youth population and higher than normal levels of unemployment and homelessness.
Having a better equipped playground within walking distance in the heart of their neighborhood will provide children and youth in the area with the opportunity to be physically active, have fun and get fit playing at their neighborhood park.
The park includes a double swerve slide, crunch bar, crazy eight climber, banister rails, spiral slide, symmetric climbing wall, turning bar, a drivers panel, telescope and kaleidoscope, plus many more fun components.
Take part in the ribbon cutting ceremony of this great new playground that will offer the community the great opportunity to live a happier, active and healthy lifestyle. Light refreshments will be served. For more information, please contact Community Service Supervisor Erendira Moreno at (714) 571-4285 or email Emoreno@santa-ana.org.
****************************************************************************
Acompáñenos a celebrar el nuevo equipo de juegos infantiles en el parque Chepa. El público en general está invitado a participar en la inauguración del nuevo equipo de juegos infantiles en el parque Chepa ubicado en el 1009 N. Custer en Santa Ana. La ceremonia se llevará a cabo el martes día 1ro de Mayo, 2018 a las 4:00 p.m. en el parque Chepa.
El área de juegos infantiles del parque Chepa es uno de los tres sitios seleccionados para recibir una subvención de State-Wide Play Training & Funding Initiative en la región 10 de CPRS. Chepa es un parque comunitario de 17.600 pies cuadrados rodeado de complejos de apartamentos y casas de varias unidades. Con más del 78% de la población circundante considerada de bajos ingresos y con altos niveles de población juvenil, desempleo y falta de vivienda, esta comunidad enfrenta un gran desafío económico.
Contar con un área de juegos infantiles mejor equipada en el corazón de su propio vecindario, proporcionará a los niños y jóvenes del área la oportunidad de ser físicamente activos, divertirse y ponerse en forma jugando en el parque de su comunidad.
El nuevo equipo de juegos incluye un tobogán de doble viraje, barras con pasamanos, espirales, muro de escalada simétrica, barras giratorias, panel de controles, telescopio y caleidoscopio, además de muchos otros componentes de diversión.
Participe en la ceremonia de inauguración de este nuevo y grandioso equipo de juegos que ofrecerá a la comunidad la gran oportunidad de vivir una vida más feliz, activa y saludable. Se servirán refrigerios. Para obtener más información, favor de ponerse en contacto con la Supervisora de Servicios a la Comunidad Erendira Moreno al (714) 571-4285 o al correo electrónico Emoreno@santa-ana.org.