Remember the nonprofit Orange County Needle Exchange Program , the weekly needle exchange program that made such a mess at Santa Ana's Civic Center? Well the same nonprofit that got booted before is back – seeking state approval to bring needles back to our Downtown to give to homeless drug addicts, according to the O.C. Register.
These folks want to bring a van or some other type of vehicle to the area bounded by (N) East 4th Street, (E) North Standard Ave, (S) South Grand Avenue, and (W) East Chestnut Avenue, between 10 a.m. and 5 p.m. at least once a week, with more frequent service as needed.
This is of course ridiculous! This will only bring more homeless maniacs to Downtown Santa Ana when we are still trying to get rid of the ones that are already here.
The argument is that clean needles save lives – but why is this our problem? These drug addicts are not from Santa Ana. They are intruders who come here for handouts and who do nothing but promulgate crime in our city.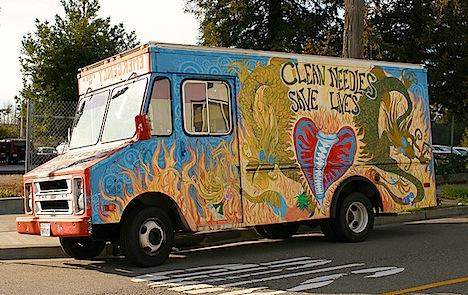 Please take 10 minutes of your time to email a comment to the California Department of Public Health regarding the needle exchange operating in Santa Ana again. Public comments may be sent to: SEPApplication@cdph.ca.gov.
All public comments must be in writing and submitted to CDPH no later than 11:59 p.m., June 25, 2018.
Below is an example you can use:
Dear CDPH Officials,
I am writing AGAINST the certification of the Orange County Needle Exchange Program (OCNEP) to operate a mobile syringe exchange in Santa Ana. For the last 2 years, OCNEP operated at the Santa Ana Civic Center every Saturday and it has negatively impacted our Quality of Life. After OCNEP started operating in 2016, we started finding used needles in our city's Library, parks, and neighborhoods seriously endangering the public's safety.
The County of Orange just removed 14,000 needles from the Santa Ana River Trail in February of this year.
In short, I DO NOT support OCNEP's application in the strongest possible terms and hope you DO NOT approve their application.
Sincerely,
(Your name),
Orange County resident, ______ zip code