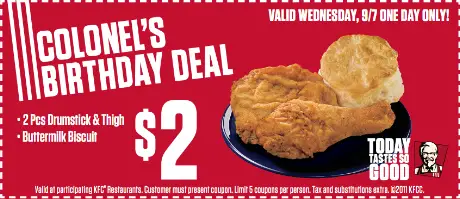 KFC is celebrating the Colonel's birthday and will be offering a 2 pc drumstick and thigh with a buttermilk biscuit for only $2. This coupon is valid in So Cal only and is for Wednesday 9/7 only.
There are four KFCs in Santa Ana:
1345 South Main Street, Santa Ana – (714) 542-4771
2600 South Bristol Street, Santa Ana – (714) 754-0871
1325 E. 17th Street, Santa Ana, CA 92705 – (714)541-0310
762 South Harbor Blvd, Santa Ana, CA 92704 – (714)839-1340
Click here to download the KFC birthday deal coupon.
Click here to see more local KFC locations.