The Celebrate Santa Ana 2016 Award, Networking, Recognition & Resource Expo is set for Wednesday, April 6, 2016, from  5:00 – 8:00 p.m. at the Santa Ana College Exercise Science Building.
Free Parking will be provided in Lot 1, at 1530 W. 17th Street, in Santa Ana.
Since 1996, Santa Ana has maintained a tradition of bringing together our town's community based organizations, opinion leaders and key representatives for a free event called Celebrate Santa Ana. This event typically attracts hundreds of leaders representing our neighborhood associations, school parent groups, faith-based organizations, service clubs, non-profit social service agencies, local elected officials and business leaders with an interest in civic engagement.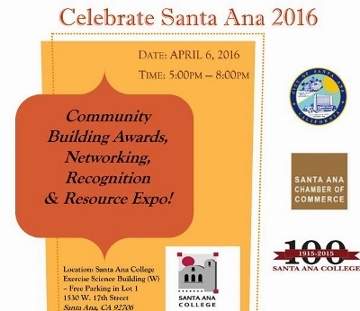 We are excited to be recognizing community leaders and organizations making special efforts in Santa Ana via the 14th Annual Community Building Awards! Also, the Communication Linkages Forum will be celebrating with a reunion of their "Neighborhood Hero Awards" recipients. This year the city of Santa Ana is collaborating with the Santa Ana Chamber of Commerce and Santa Ana College to convene the best possible event on behalf of the Santa Ana community.
For more information, to sign up for an Expo booth, or to submit a Community Building Award Nomination please contact skutner@santa-ana.org. To RSVP for this event please call (714) 667-2260 or email nperez@santa-ana.org.