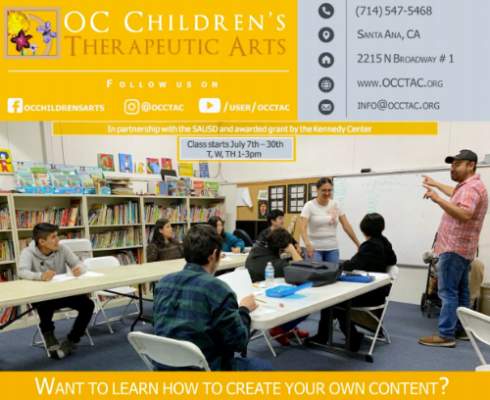 The OC Children's Therapeutic Arts Center is providing an Online Content Creation Class with videographer and instructor, Randy Ruiz, it is free to special needs high school students and starts next week on July 7th. In partnership with the SAUSD/TPP program and a grant from the Kennedy Center, this ONLINE class is for special needs high school students who want to learn content creation using camera, lighting and editing skills. Please click here to view flyer.
In a collaboration with OC MECCA, they are offering free workshops to parents and Teens & Youth on Substance Abuse Disorders/Medication Assisted Treatments. Both series of workshops are lead by doctoral candidate in Psychology Axel Meléndez Mercado and are specifically designed to reduce the stigma surrounding help for mental illness and substance abuse in our community. Please click here for the youth flyer.Click here for the parent flyer.
Additionally, they are offering free counseling and other services to families of children with special needs. The new Family Mentoring Program serves to guide and encourage families who have family members with special needs to independently and sufficiently manage life's difficulties and obstacles and to improve their family's overall quality of life. The Family Mentoring Program, lead by program coordinator Angie Vazquez, ​offers a variety of services, including guidance for families with special needs members by providing information about the possible services available to them, assistance for families in obtaining available services, helping families navigate the eligibility process, and translation services. To view the program flyer click here.
If you have any further questions, you can contact Jennifer Nichols at jennifern@occtac.org or the OCCTAC office number at (714)547-5468.