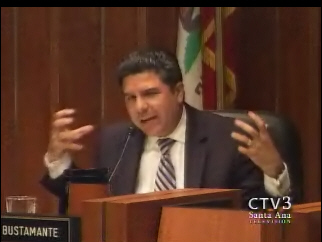 Does Santa Ana Council Member Carlos Bustamante realize he is up for reelection next year?  He sure isn't acting like it.  He went off on the Latino residents and businessmen who showed up to yesterday's City Council meeting.  But that wasn't all.  Here is a review of Bustamante's strange utterances at the Council meeting:
He said taxes put his father out of business.  Then he said that he supports the PBID – a tax that may yet put more fathers out of business.
He said we need to not perpetuate the racial issue.  Then he said that he has experienced racism and that his parents were born in Mexico.
He also threatened to raise taxes if the PBID goes away.
Mind you, this guy is a registered Republican.  But he appears to be a very big fan of taxes.
Bustamante had already gone on record as saying that those opposing the PBID (which they are calling taxation without representation) and those opposed to the gentrification tactics of developer Irv Chase are racists.  Here is how the Voice of OC reported that:
"It's sad that they're exercising racism against other people," Bustamante said about the protestors. "Why can't we all just get along as human beings and not worry about what race we are?"

Bustamante defended the protestors' right to protest but also called them "misguided youth."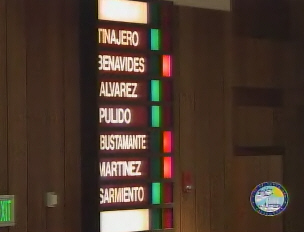 Bustamante utterly flamed out last night – as his motion against Alvarez was denied by the majority on the Council (did you notice that the pochos voted for his measure but the immigrants went with Sarmiento's alternative measure?).  By opposing Mayor Pro Tem Claudia Alvarez, Bustamante ensured that he will get very little support from Santa Ana's Latino majority.  If this was his last stand, it was rather lame!
And I don't expect Bustamante to get much GOP support given his views on taxes and the fact that he got caught getting unmerited pay raises, as an overpaid Orange County middle manager.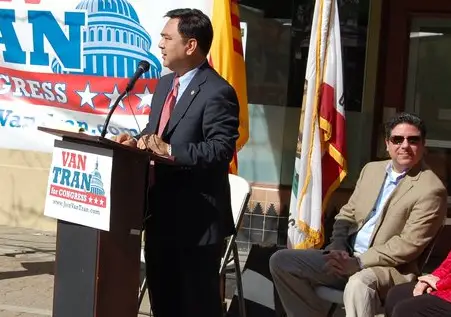 Don't forget that Bustamante also held a fundraiser at his home last year for Republican Assemblyman Van Tran, a longtime basher of Mexican immigrants.  Tran lost to Congresswoman Loretta Sanchez.
If you are keeping score, what this means is that both Sanchez and Alvarez will be very active in making sure a good Democrat takes out Bustamante next year.  Adios Carlos!  Don't feel too bad.  You will go down in history as the very last Republican to ever get elected to the Santa Ana City Council…