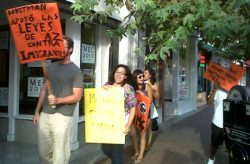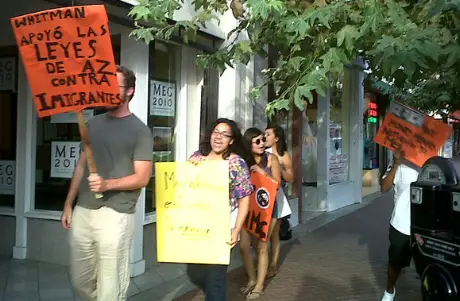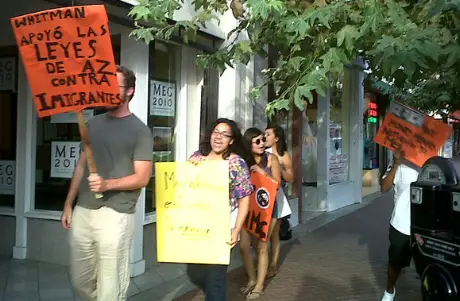 Protesters showed up today in Santa Ana, at the new Meg Whitman campaign office.  And guess who showed up to visit with the Whitman staff?  None other than Santa Ana Councilman Carlos Bustamante and Minuteman Lupe Moreno.
I ran against Bustamante, who is a Republican, two years ago, and was amazed when the supposedly Democratic bloggers at the Liberal OC joined forces with the Republican bloggers at the Red County blog, and Nick Berardino and his lame OCEA, to attack me with nasty mail pieces.  Sure enough, Bustamante won, even though I came away with over ten thousand votes.  And now Bustamante is actively campaigning for Van Tran and Meg Whitman.  I hope Berardino and the Lib OC bloggers are proud of themselves!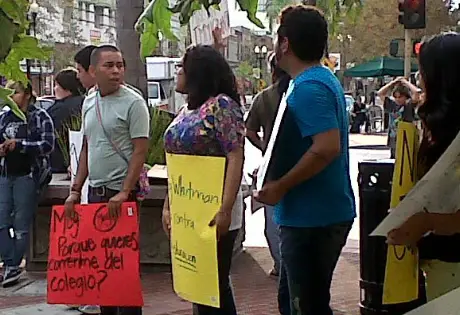 Kudos to the Dream Teamers who showed up today to let Whitman have it.  I wish I could have been there but I had to cook dinner and pick up my second grader from school.
Apparently Republican Senate candidate Carly Fiorina also showed up in Santa Ana today, where she spoke at a business owned by a friend of business owner Mike Tardiff, who often comments at the Liberal OC blog.  She spoke about jobs even though she outsourced thousands of jobs when she ran HP.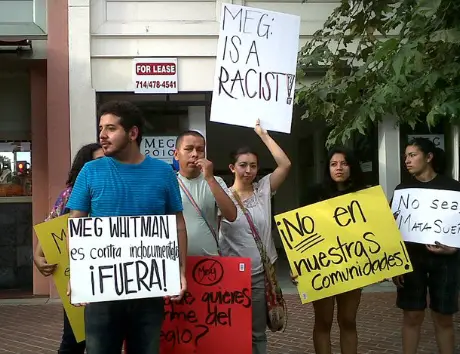 Whitman and Fiorina can pander here in Santa Ana all they want, but Latino voters know better than to vote for either of them!  The fact that Lupe Moreno is showing up to work at Whitman's office speaks for itself.
Moreno made headlines this summer when Santa Ana Councilman David Benavides chose to honor her, after she and her Minutemen took over the Santa Ana Independence Day event.  We dubbed that scandal "Hatergate."  When we had Benavides on last week's Orange Juice blog radio show he once again defended Moreno.  Well Benavides, what do you think now that she is working to get Whitman elected?  I wonder if Benavides knows that Whitman's Campaign Chairman is former Governor Pete "Prop. 187" Wilson?