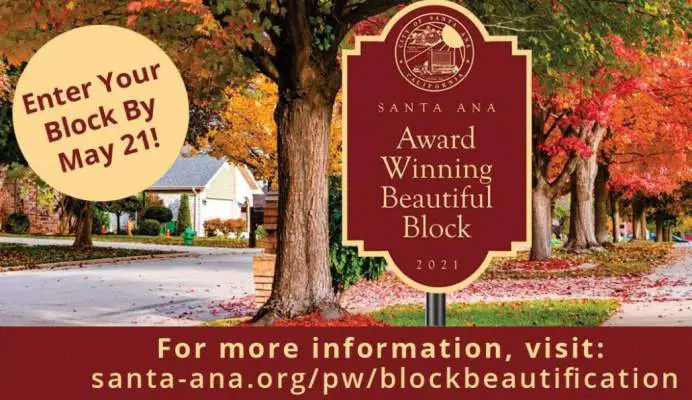 The Santa Ana "Neighborhood Block Beautification Contest" (NBBC) is all about beautifying our community and that means making improvements. To qualify, you will need to send "before" and "after" pictures, demonstrating the improvements made by each participating property on your block since the launch of our contest.
The before and after pictures need to be taken after March 1, 2021 and submitted by May 21, 2021. Enter now at https://bit.ly/3mOdXB9.
What is a neighborhood block? For the purposes of this contest, a neighborhood block is defined as a section of homes on both sides of a street that is intersected by a street at each end.
SELECTION CRITERIA
The NBBC will only consider street facing landscaping and enhancements that increase the property's curb appeal. Entries will be judged by the Environmental Transportation Advisory Commission (ETAC), which will consider plant materials, landscape design, property maintenance and neighborhood context. The Commission will consider the following questions pertaining to the property:
Does the landscape enhance the neighborhood?
Is the plant selection appropriate for the site and the climate?
Is the foot path to the property clear and inviting?
Is the front porch clean from debris and in good condition?
Is the front door crisply painted and clean?
Is the font yard lawn green and well-trimmed?
Is the fencing and exterior paint of the home in good condition?
Is the parkway landscaped with grass, plants and or hardscape?
AWARDS
Each winning block will receive two elegantly designed, Santa Ana signs. One sign will be installed at each end of the block, commemorating the neighborhood block's community pride. Each participating property of a winning block will receive one $100 gift card.
No more than three block winners per Ward will be chosen. The final decision of the design and location of each sign will be determined by the City of Santa Ana Public Works Executive Director based on various factors including the American Disability Act (ADA), safety, visibility and aesthetics.
For more details and to download contest materials, visit www.santa-ana.org/pw/blockbeautification.
¿Cómo se puede mejorar su vecindario para ganar NBBC?
Spanish/español: https://bit.ly/2RG3qwr
Làm thế nào để Khối
Vietnamese/Tiếng Việt: https://bit.ly/3gfDUIr