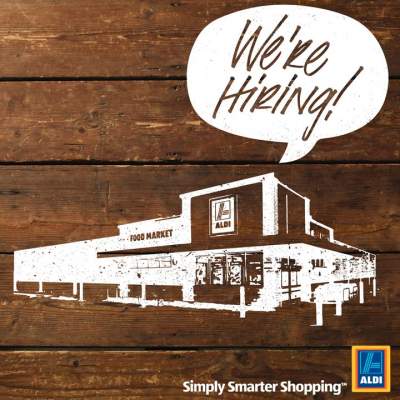 California's Newest Grocer, ALDI, Brings Jobs to Los Angeles, Orange Counties
Company to Fill Nearly 50 Shift Manager Positions During First Los Angeles Hiring Event on Oct. 16
LOS ANGELES. – October 8, 2015 – Offering wages and benefits that are higher than the national average for the retail industry, ALDI will host its first Los Angeles-area hiring event on Friday, Oct. 16. The event will fill Shift Manager positions for the grocer's initial Los Angeles and Orange County stores. The March 2016 arrival of ALDI will expand grocery retail options with the ALDI difference of fresh, high-quality groceries at everyday low prices.
What: Hiring event for future ALDI stores at the following locations:
17070 Magnolia St., Fountain Valley
8351 La Palma Ave., Buena Park
275 S. Euclid St., Anaheim
11530 South St., Cerritos
1403 S. Baldwin Ave., Arcadia
1400 N. Azusa Ave., Covina
1559 N. Hacienda Ave., La Puente
2268 Foothill Blvd., La Verne
5820 Firestone Blvd., South Gate
740 W. Rancho Vista Blvd., Palmdale
3330 W. Century Blvd., Inglewood
Who: Local residents currently seeking employment opportunities
When: Friday, Oct. 16 – 7:00 a.m. to 5:00 p.m.
Media interview/b-roll shoot time: 7:00 a.m. to 11:00 a.m.
Where: Los Angeles Convention Center
1201 S. Figueroa St., Los Angeles, CA 90015
Positions: Shift Manager – $18.00 per hour; up to $23.00 per hour with tenure
Job Requirements:
Must be 18 years or older to apply
High school diploma or GED
Must be available to work anytime between 5 a.m. and 11 p.m., Monday – Sunday
Retail experience preferred
Drug screening and background check
Ability to lift 45 pounds
Quick Facts:
ALDI will open approximately 25 Southern California stores between March and July 2016, and operate approximately 45 stores by the end of 2016.
ALDI offers employees generous wages and benefits that are higher than the national average for the retail industry.
Employees will average 33-40 hours each week and will be eligible for full benefits, including health insurance and dental coverage.
All employees are invited to participate in the 401(k) program.
About ALDI Inc.
A leader in the grocery retailing industry, ALDI operates more than1,400 US stores in 32 states, primarily from Kansas to the East Coast. More than 30 million customers each month save up to 50 percent** on their grocery bills, benefiting from ALDI's simple and streamlined approach to retailing. ALDI sells more than 1,300 of the most frequently purchased grocery and household items, primarily under its exclusive brands, which must meet or exceed the national name brands on taste and quality. ALDI is so confident in the quality of its products, the company offers a Double Guarantee: If for any reason a customer is not 100 percent satisfied with any ALDI food product, ALDI will gladly replace the product and refund the purchase price. ALDI was named the 2014 Retailer of the Year by Store Brands Magazine for its strong commitment to value and innovation-focused private brand product development. For more information about ALDI, visit www.aldi.us.
###
**Based upon a price comparison of comparable products sold at leading national retail grocery stores.
Contact: Jennifer Savage, (310) 854-8280, jesavage@webershandwick.com, Eniko Bolivar, (310) 854-8292,  ebolivar@webershandwick.com