Is it Sandy Nalle time in Santa Ana's Ward 3?
Santa Ana Councilman Carlos Bustamante is now facing the threat of a recall, according to a source who is tight with the Santa Ana City Council majority.
I am told that Bustamante will ultimately resign rather than face the embarrassment of being recalled.  And here is the odd part – the City Council is considering replacing him with a non-Latino Republican!  Who says they don't appreciate diversity?
The supposed candidates to replace Bustamante include:
Nalle actually ran against Bustamante back in 2004. He had the support of Mayor Miguel Pulido – and in hindsight we would have been better off if Nalle had won. Nalle works in real estate. Click here to read his bio. Nalle got over 18,000 votes, according to Smart Voter. As such he deserves consideration as a replacement for Bustamante.
I know McLaughlin and I respect him. He antagonized a few folks in town by being one of the leaders of the Nativo Lopez recall, but that was awhile ago and Lopez had detractors on both the left and the right.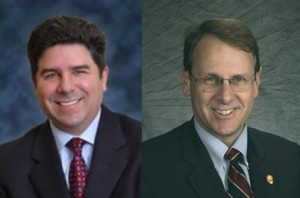 Richardson would be a very offensive choice. He is one of the County of Orange administrators busted over the summer for accepting and granting pay raises that did not meet County HR guidelines.  He is thought to be the guy who brought Bustamante to the County of Orange.  Richardson replaced Lopez on the SAUSD Board – and nothing changed for the better.  He really needs to get booted off the SAUSD Board next year, when he faces reelection.  Getting stuck with him on the Council would be an insult to us all.
I previously wrote about other candidates to replace Bustamante.  Click here to read that post.