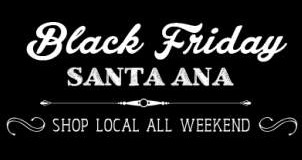 FOR IMMEDIATE RELEASE
Contact: Ryan Smolar, Consultant to Downtown, Inc., (213) 268-4924, info@downtown-inc.com
Shop Black Friday in Downtown Santa Ana
Downtown Santa Ana is OC's "Shop Local" Headquarters this Black Friday Weekend
Downtown Santa Ana's eclectic mix of independent clothing stores, record shops, restaurants and craft beer establishments are offering incredible sales, deals and cool events this Black Friday weekend.
"DTSA is an unexpected hub for unique gifts, deals and a great shopping experience" said Ryan Smolar, consultant to Downtown Inc., "where else can you buy special release albums and sneakers, get 40% off both suits and and street clothes, enjoy live and cultural performances and checkout handmade goods from over 200 local makers?"
"We're also a popular haven for shoppers bounding to and from Westfield Main Place Mall and South Coast Plaza," says restaurateur Jeff Hall of downtown Santa Ana's Chapter One: the Modern Local and C4 Deli, "and our restaurants offer 10%-off to DTSA and Patchwork Show shoppers."
In the spirit of the holidays, DTSA's restaurants , taphouseses and downtown breweries are offering discounts, hosting exclusive tap takeovers and supplying drop-off points for toy, clothing and healthy canned food drives to support the community.
Visit the DTSA Black Friday Weekend micro-site at www.downtown-santana.com/blackfriday for a guide to all of the sales, discounts and events to make this weekend an awesome experience.
DOWNTOWN SANTA ANA SALES & EVENTS (in alphabetical order)
BLACK FRIDAY
Beatnik Bandito Music Emporium — Record Store Day with Live Performances and Storewide Sale
Bespoke Cut & Sew — 40% Off Everything
Blends – 50%-70% OFF! NIKE, ADIDAS, VANS, REEBOK, AIR JORDAN, CONVERSE, PUMA, NEW BALANCE & MORE!
Boldo Bol – 10% Off
Brooklyn Harper Boutique — Store Wide Clearance Sale
Chapter One & C4 Deli — Show a DTSA or Patchwork Receipt to get 10% Off
Charlie's Piercing & Tattoo Supplies – 30% off all day
Elite Fitness — 40% Off Personal Training Packages, 35% off Gym Memberships, and 40% Off Sweatshirts
GCS Santa Ana — 40% off clothing
The Frida Cinema — $1 Snacks Deals; The Hunger Games Part 1 with Spanish Subtitles at 4:30 & 7:30; Extraterrestrial presented by IFC Midnights
The Good Beer Co. — Healthy Canned Food Drive & Coat/Blanket Drive — Bring a Donation to Receive Discounts and Raffle Tickets
Left of the Dial Records — Record Store Day with Special Releases
Mi Moda – 40% off all suits (mention this ad)
Native Son Alehouse — Goose Island Bourbon County Tap Takeover
Safehouse – 40-60% off
SMALL BUSINESS SATURDAY
Boldo Bol – 10% Off
Brooklyn Harper Boutique — Store Wide Clearance Sale
Chapter One & C4 Deli — Show a DTSA or Patchwork Receipt to get 10% Off
The Frida Cinema — $1 Snacks Deal; The Hunger Games Part 1 w/ Spanish Subtitles at 4:30 & 7:30, Extraterrestrial presented by IFC Midnights
The Good Beer Co. — Good Beer Brew Day & Healthy Canned Food Drive — Bring a Donation to Receive Discounts and Raffle Tickets
SHOP LOCAL SUNDAY
Boldo Bol – 10% Off
Chapter One & C4 Deli — Show a DTSA or Patchwork Receipt to get 10% Off
The Frida Cinema — $1 Snacks Deal; The Hunger Games Part 1 w/ Spanish Subtitles at 4:30 & 7:30
The Good Beer Co. — Good Beer Brew Day & Healthy Canned Food Drive — Bring a Donation to Receive Discounts and Raffle Tickets
Patchwork Show — Browse 200 of the best Makers and Crafters, Food Trucks and Live Music
###